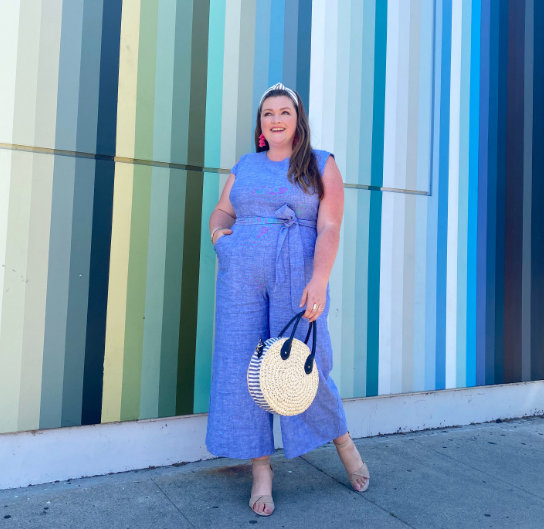 This week, the ladies sat down for a treat with WeHo-based influencer, blogger and brand strategist Rachel Richardson of Lovely in LA. "I never leave the village," says Rachel. While that's not entirely true (she has true wanderlust and has become quite the California road trip girl), her love for all things West Hollywood is clear from the interview. Pour yourself a glass of rosé and settle in for a nice long Overheard in WeHo convo.
About Rachel
Rachel Richardson, is the founder of Lovely in LA. She's been called many things: influencer, blogger, brand strategist, fit model, creative director and trend forecaster. In short, she's the secret weapon that brands call upon to engage the powerful $20 billion plus/curvy market. She helps brands navigate the bridge between plus and standard style while inspiring and equipping her audience to look and feel their absolute best. Founded in 2012, Lovely in LA is a source of chic sophistication and style inspiration for fashionistas of all shapes and sizes. This inclusive approach to all things stylish is incredibly important in a community like West Hollywood especially at a time like this. She's also very "in the know" and often the go-to resource for Maxine when trying to figure out what to wear or where to go. And most importantly, Rachel calls West Hollywood home.
Top Takeaways from our chat with Rachel:
If you want to step away from a 9-to-5 grind, make sure to pursue something you love.
Location, location, location! Rachel is able to create content all day, everyday because she is inspired by our WeHo neighborhoods.
Think global and support local where you can. Even though Rachel works with many global brands (Nordstrom, Mazda, etc.), she also loves to shop and support local.
Inclusivity is on-trend and oh-so-stylish.
Mentioned in this Week's Episode: This includes picks from our guest Rachel, Tracy, Maxine and of course, Lola's List! Following are almost 40 things to see, do and shop in WeHo and beyond. Take a listen to the podcast for the inside scoop.
Food: BBCM, Carla's Cafe, Cara Hotel (WeHo adj), Cecconi, Craig's, Found Oyster (WeHo adj) Harriet's Rooftop, The Edition, Employees Only, La Peer Hotel, Madre, Olivetta, Petit Ermitage, Ponsonby Road Cafe, Starbuck's (peppermint hot chocolate is here), Tess Pro Tip: Many of these spots are also very Instagrammable
Health, Wellness & Fitness: Dr. Refresh, MYX Fitness, Peloton app, Yoga at Petit Ermitage, Mount Olympus "hikes", long walks up Doheny toward the Bird streets, The Doctor, The Solution
Home: CB2, Hollywood Glam Furniture, James Perse Home on Robertson, West Hollywood Design District
CA Road Trips: Death Valley, Palm Springs, Zion
Pets: Dog park, Healthy Spot
And just in time for the holidays … shopping: Amazon Pop Up on Melrose "Unwrap Change" a collaboration between Amazon Handmade and Dove Chocolate, Belcampo Meats, Book Soup, Candles by AK Squared (a hyper local company, their candles are named after WeHo streets!), Temecula Olive Oil, WeHo Gift Guide by the West Hollywood Chamber of Commerce. Make sure to check out last week's episode for even more shopping!
Make sure to follow the podcast, and join in on the Instagram convo for daily deals and more. See you next week!
CLICK HERE to listen to the podcast.