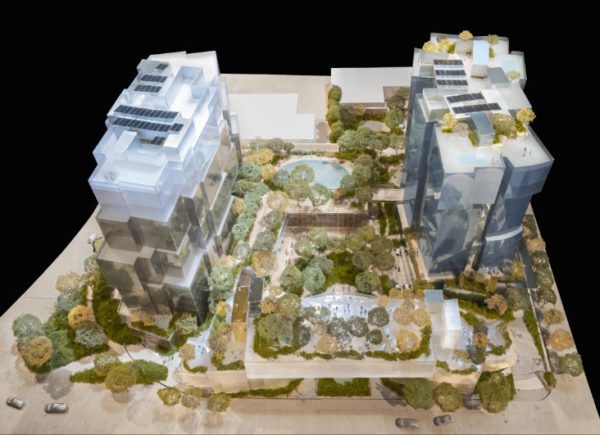 Renowned architect Frank Gehry has unveiled new designs for the 8150 Sunset project, the controversial retail-residential complex that has survived all its legal challenges and appears ready to start construction soon.
Gehry's new designs seem to appear like glass blocks stacked on to of one another. This replaces the previous whimsical version with buildings of different heights and styles.   
"I was fascinated with the frameless glass aesthetic. With this technology, I wanted to make the buildings look like glass blocks," Gehry said in a statement. "This is a building system that has not much been used in building residential towers. It seemed that we could make a crystalline sculpture out of the buildings so that when it all went together, it had a unity and simplicity about it."
Located on the southwest corner of Crescent Heights and Sunset Boulevard in Los Angeles, just a few feet over the West Hollywood border, the complex will provide 203 residential units and approximately 57,300 square feet of retail and restaurant space. That's somewhat smaller than the previous design which had 229 residential units and 65,000 square feet of retail.
These revised designs show two towers of the same height rather than one taller tower surrounded by several shorter ones in the previous design. As agreed upon after negotiations with both Los Angeles city officials and West Hollywood city officials, the building's maximum height is 178 feet.
With the change to two towers, Gehry is now creating a view corridor in the center of the complex. There is 164 feet between the two buildings. Additionally, the complex will now have greater setbacks from the WeHo neighbors to the south.
Developer Townscape Partners hired Gehry create a visually stunning complex which will serve as the eastern gateway to the Sunset Strip.  Gehry is known for his fantastical designs; he's the person who designed the Disney Concert Hall in downtown Los Angeles.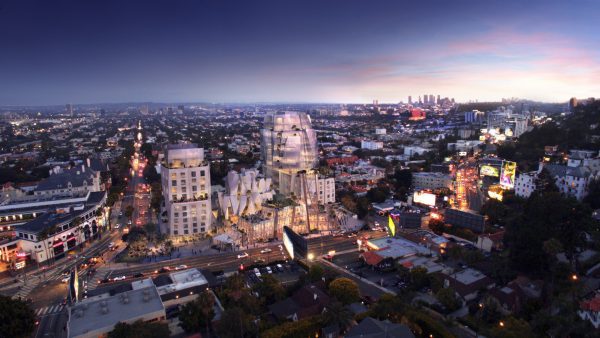 First proposed by Townscape in 2013, the Los Angeles City Council approved the project in fall 2016. However, it faced several legal challenges including one to preserve the mid-century modern style Lytton Bank building (now a Chase Bank), which the LA City Council had designated as historic. However, Townscape prevailed in those court cases.
Construction is set to begin sometime in 2021 and be completed in 2023. The 8150 Sunset complex will replace the strip mall and bank building currently on the site. The shopping center was constructed in 1961. Prior to that, the famed Garden of Allah residential hotel sat on the site.
8150 Sunset is the second project by Townscape Partners in the area, with their first project, the adaptive reuse of 8899 Beverly Blvd in West Hollywood, nearing completion.