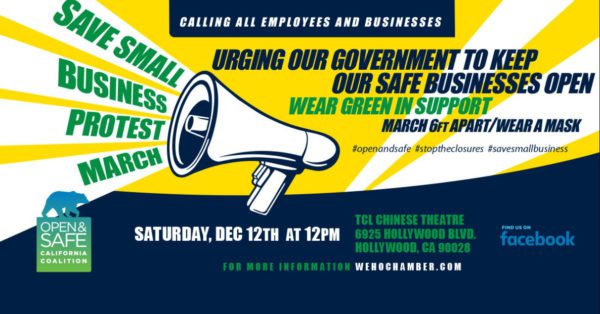 In what is being billed as the world's largest Save Small Business Protest March, the recently formed California Coalition for Safe Reopening is sponsoring a march on Saturday to get the attention of elected officials, demanding they find alternatives to COVID-19 business closures as a way to fight virus spikes.
The march starts at noon on Saturday on Hollywood Boulevard in front of the TCL Chinese Theater. The march will go west on Hollywood Boulevard, turn south on La Brea Avenue and then go west on Santa Monica Boulevard through West Hollywood, ending near Doheny Drive in Beverly Hills.
"We believe that the current actions taken by the county and state are woefully inadequate tactics that are further exacerbating disproportionate impact to small business as well as creating social justice issues to our most vulnerable segments of the population," said Nick Rimedio, chair of West Hollywood Chamber of Commerce, general manager of La Peer hotel, and a founder of the Coalition for Safe Reopening, "We need our elected officials to step up and stop using us as their excuse for mismanagement."
The Coalition contends there is no scientific data to support the state's theory that the virus upticks are arising from activities such as outdoor dining, and limited capacities at salons and gyms.
"We are marching in protest due to the lack of science and statistics used in these decisions," Rana Ghadban, president of the Hollywood Chamber of Commerce, said in a statement. "There has been no evidence to show that restaurants are contributing to the uptick in cases in Los Angeles County. We believe that reopening restaurants under safe regulations will also help curtail the current surge of prohibited private gatherings and parties by providing an accessible and regulated conduit for desired human connectivity in settings such as outdoor restaurant dining."
The Coalition points out that it's not only business owners who are hurt by closure orders, but also their employees. Some businesses have already closed their doors permanently, while others will likely not survive the current closure order now in effect.
They contend the closures for the good of public health are resulting in the economy becoming a public health issue. When people aren't earning money, they cannot afford basic necessities such as food and rent.  
The Coalition's "Three Point Economic and Public Health Recovery Plan" proposes specific measures the state should undertake, including:
Creation of a Safe Reopening Task Force to identify sustainable, long-term solutions for reopening.
Empowerment of local authorities to make decisions on a local level and enforce them on a local level.
Creation of a California COVID-19 Emergency Business Interruption Fund to provide grants to businesses for any future unanticipated closures.
The Coalition is made up of 50 Southern California chambers of commerce and business organizations, including the West Hollywood Chamber of Commerce, the West Hollywood Design District, and the Beverly Hills Chamber of Commerce.
Saturday's march will include "March Ambassadors" who will spot check crowd to ensure marchers are masked and socially distanced. Colorful ropes will be used for people to hold six feet apart. COVID Safe Stations will be set up outside various businesses along the route for sanitizers, masks, and temperature checks.
People participating in the march and their supporters are asked to wear green. Green is, of course, the color of money.