This week We Know WeHo welcomes to the podcast famed local historian Alison Martino as their special guest following the City of West Hollywood's 36th incorporation anniversary last week. Alison is a native Los Angeles-based television producer, documentarian, blogger for West Hollywood Travel and Tourism, and lifelong resident of the city. Her passion for Dan Tana's restaurant landed her a position as the media director in charge of promoting this local favorite historic establishment.
Martino's affection for old Hollywood and her hometown's architecture led her to create the wildly popular Vintage Los Angeles on Facebook that has amassed over 325,000 followers and was successful in the crusade to locate the famous Rocky & Bullwinkle statue that is back on the Sunset Strip. Her zeal for history and lifelong penchant for collecting has resulted in one of the largest collections of restaurant memorabilia, photographs, postcards, and matchbooks.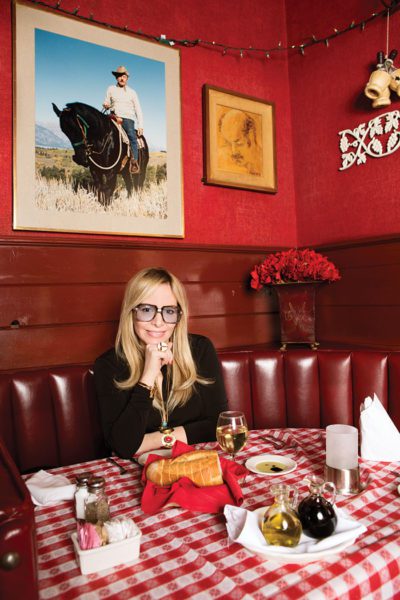 Martino is also an advocate for historic preservation of the architecture that makes Los Angeles and its surrounding communities like West Hollywood, Beverly Hills and Santa Monica unique, and for the buildings that are iconic representations of the entertainment industry. She worked to bring back the original Chasen's Chili, has helped to preserve the original caricatures on the walls of The Palm Restaurant and save vintage signs on the Sunset Strip.
If you want to know anything about West Hollywood's history, a conversation with Alison may leave you longing for the good old days as she recounts roller skating at Flipper's at the corner of La Cienega and Santa Monica Blvd where Prince played and Cher had an investment stake. Tracy and Maxine can practically smell the fresh bread that used to be delivered on the train that ran directly through West Hollywood to Beverly Hills where the center island now sits on Santa Monica Boulevard. We have a feeling Alison has a lot of stories about the good old rock 'n' roll days at the Viper Room, Whisky, Troubadour, House of Blues, and the "secret" recording room in the belly of the Sunset Marquis Hotel. She is intrigued by the idea of getting together with Jon D'Amico, our Sunset Strip King, to create a West Hollywood Rock 'N' Roll tourist map.
Like most West Hollywood residents, Alison loves her city and does quite a bit of walking and suggests a stroll up Harper Avenue from Santa Monica Boulevard to Sunset Boulevard for some of the most iconic architecture still intact. Dan Tana's is by far her favorite haunt, but she also loves to support legacy businesses like Carney's, Mel's, Norm's, The Rainbow Bar and Grill and her neighborhood favorites Hugo's and Barney's.
Tracy has a few dream crusades she would love Alison to take up including saving the globe that sits atop the original Hustler building before demolition for the Arts Club begins, as well as a retro white dinner jacket full orchestra night club, "Suit & Tie," from Justin Timberlake, and lastly maybe a WeHo Rock 'N' Roll Hall of Fame at the historic Tower Record's building filled with memorabilia from Alison's treasure trove.
Food & Fashion:
Tracy is managing her COVID fatigue with a cheeseburger taste-off in search of the best double cheeseburger under $10. She has a longer list than expected for West Hollywood contenders that will keep her east of the 405 and away from Win-Dow and Adrift both located in Venice.
Lauren and Tracy made it up to Pink Dot last week for the launch of the Postmates partnership that has three adorable wheeled pink robots (Pinky, Dotty and Solly) making driverless deliveries around town.
V Wine Room has some great holiday gift packages with two bottles of wine or Cava and a candle. Tracy popped into Candle Delirium this week and passes along owner Anthony's reminder that retail is still open (with restricted capacity) and to pop in for perfect holiday gifts. (We Know WeHo insider tip – don't miss the Candle Delirium line of candles, with a strong recommendation for the Cranberry & Cinnamon holiday candle.)
If you are out for some fresh air, head to the La Peer Hotel to see the fabulous art installation from local artist Katie Bright featuring seven large instagrammable artworks hanging on the exterior facade of the hotel. These pieces are part of her new The Digs Collection and can be purchased via a QR code on the art print.
See you next week and make sure to follow @weknowWeHo daily stories on instagram for insider tips!
Listen to the episode here: