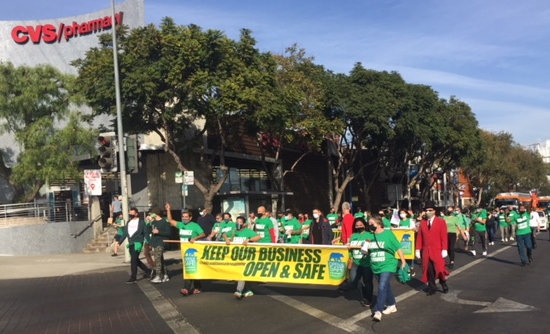 "Save Our Jobs! Save Our Jobs!"
That was the rallying cry as about 50 people marched Saturday afternoon in a 4.5-mile Save Small Businesses protest march demanding the state of California quit ordering business closures as a way to stop spikes in COVID-19.
Organized by the recently formed California Coalition for Safe Reopening, the march started in Hollywood on Hollywood Boulevard, went south on La Brea Avenue and then turned west on Santa Monica Boulevard through West Hollywood, ending in Beverly Hills near Doheny Drive.
The protesters wore green t-shirts which read "Save Small Businesses. Stop the Closures." Sheriff's cars escorted the group along Santa Monica Boulevard, blocking intersections as they passed through.
Genevieve Morrill, the president of the West Hollywood Chamber of Commerce and a co-founder of the Coalition, lead the march with a megaphone chanting, "Gov. Newsom, Quit Shutting Us Down, We're Safer at Work!", "Gov. Newsom, Save Our Small Businesses!" and "What do We Want? Open and Safe!"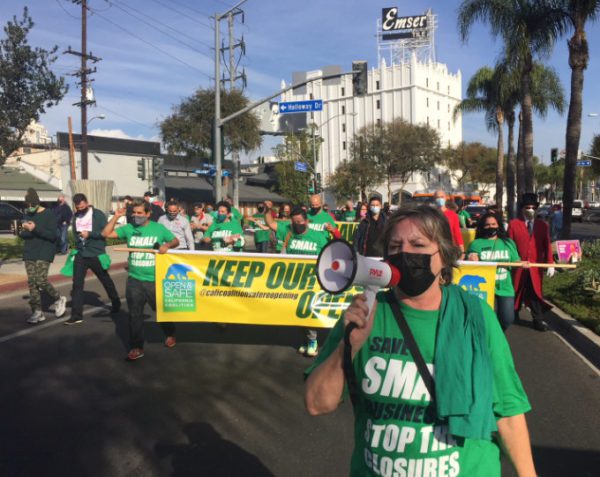 The Coalition says that the vast majority of small businesses such as restaurants and nail salons are not the cause of recent surges in coronavirus cases. They point out these small businesses have spent many thousands of dollars to install plexiglass and follow other safety protocols, yet they are now being punished for following the rules with these closures.
Many small businesses are in danger of closing permanently due to this most recent lockdown order from the state. The Coalition contends the economy has become a public health matter.
The Coalition wants the state to create a Safe Reopening Task Force to come up with long-term solutions for reopening rather than the haphazard method currently being utilized. They also want the state to create a California COVID-19 Emergency Business Interruption Fund to help businesses get through these unanticipated shutdowns.
Los Angeles County shuttered outdoor dining at restaurants on Nov. 25 because of the recent COVID surges, meaning restaurants can now only offer take-out orders and delivery.
The state of California's lockdown order on Dec. 7 for the 11 counties in the Southern California region shuttered outdoor dining in the rest of the region.
The state's lockdown order also forced barbershops, hair salons and nail salons to close entirely, while other businesses classified as non-essential must operate at 20% capacity.
The lockdown order is currently scheduled to be lifted on Dec. 28, but could be extended if COVID numbers don't come down substantially.
Save Our Small Business March through West Hollywood pic.twitter.com/qhSsA7wOA9

— WEHOville (@WEHOville) December 12, 2020