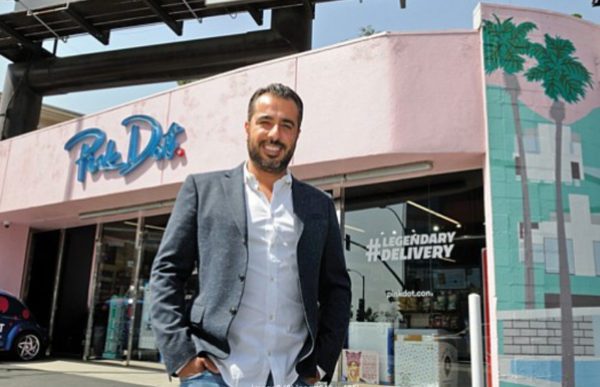 Dashing through the (We) Ho. That's us! As safer-at-home orders rock Los Angeles once again, the ladies of WKWH curate some of their favorite things to do, buy and of course … eat. Pour yourself a glass of eggnog and enjoy!
This week Tracy and Lauren sit down with Sol Yamini, the CEO of Pink Dot who has owned and operated the company since 2004. Look at Bravo's "Shahs of Sunset", Sol is arguable West Hollywood's "King of Sunset" with the pioneer of grocery and liquor delivery anchored at the top of La Cienega and Sunset, plus a new 10,000-square-foot location less than a quarter of a mile down the road on Sunset that will house his new business venture with four cannabis licenses which Sol won through the city's application process, with a hopeful opening date targeted for July 2021. If Tracy has any say in the marketing of the new business, she would name it "Green Dot".
Pink Dot is famous for their iconic signature-delivery fleet of pink and blue polka-dotted, propeller-topped Volkswagen Beetles. However, Postmates has recently expanded their long-running partnership with Pink Dot with a new trial that has three adorable wheeled robots (Pinky, Dotty & Solly) rolling down the streets of West Hollywood delivering orders.
Sol is very active in the community as he sits on the Board of the Sunset Strip Business Improvement District (BID) and is a big supporter of his fellow local businesses. He proudly boasts you can order Nonna's Empanadas, cupcakes from Cake & Art (insider tip the red velvet is a fan favorite), Gelato Festival gelato, Zooie's Cookies, and macaroons from Chef Josette, who delivers her famous, fresh-baked Normandie Bakery baguette's daily to Sol's team for their homemade sandwiches off the Pink Dot menu.
Pink Dot is not just delivery, if you are up on the Strip, you can pop in the store and pick up anything you find on the menu including a list of 15 sandwiches made in the onsite kitchen with choices like a veggie, chicken pesto, BLT or the signature Turkey Gobbler. And don't forget to pick up Lauren's favorites to go with your lunch – a bag of Flaming Cheeto's and, of course, a Zooie's birthday cake cookie!
Food & Fashion
Burgers: Last week, Tracy began her love affair with the juicy burger. This week's patty picks include Hi Ho Burger and Burger Daddy (a Pop Up at The Naughty Pig).
Sunset Strip: Justin Queso joins Prince Street Pizza up on the Sunset Strip as a new offering. We wish all these new businesses great success (including Madre on the East Side of town).
Holiday Treats: Eggnog from the Melrose Umbrella Company, all the things at Cake Monkey, weekend brunch at the London Hotel, tamales from Gracias Madres
Italian: the partially cooked pizza at Pizzana, Bossa Nova for the Family Dinner
Holiday Gifts
Amazon Pop Up: Curating all things Alexa at the moment
Vanity Girl Hollywood: 40% off Maxine's travel mirrors and more
WeHo Chamber Gift Guide: Shop WeHo Retailers and support our local businesses
Dr. Refresh x Petit Ermitage: Reset in styleat this unique pop up experience at one of WeHo's most coveted rooftops
WeHo Adjacent
Beverly Hills: Sunday morning Maxine popped "next door" to see the fashion-themed holiday decor along Rodeo Drive … early in the morning of course so as to avoid the crowds.
Netflix Stranger Things Drive Thru at the Row DTLA: Maxine visited the immersive experience based on the cult show at an 80's takeover at The Row, DTLA last Friday night. Pro tip – if you haven't watched the show, YouTube the season recaps – it will make a difference.
Holiday Road: A Drive Through Experience: Tracy's love of all things magical was met at the holiday drive through light show at King Gillette Ranch in Malibu. She of course would have preferred to see it on a horse, or a unicorn!
Happy Holidays and we will see you next week for another episode as we wind down 2020 and look forward to 2021!
Listen to the episode: