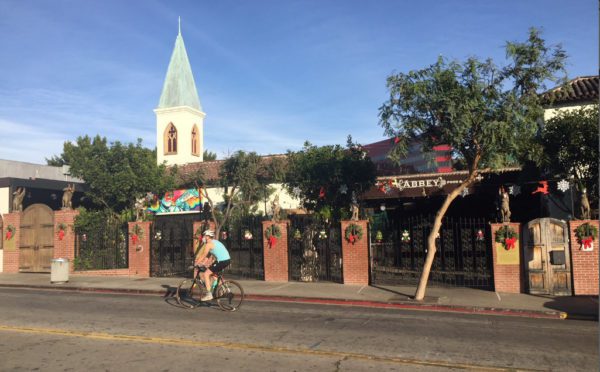 The Abbey has decked the halls for Christmas despite not being allowed to serve anyone.
David Cooley had his restaurant/nightclub, once named the "most famous gay bar in the world," decorated for the holidays even though the last time he was able to serve any customers was on Nov. 25, the day before Thanksgiving.
Several other West Hollywood restaurants, like Roccos, have followed suit, adding some holiday festiveness to their storefronts, even though people can only enjoy all that fa la la la la when they order take out, or when they pass by on the sidewalk.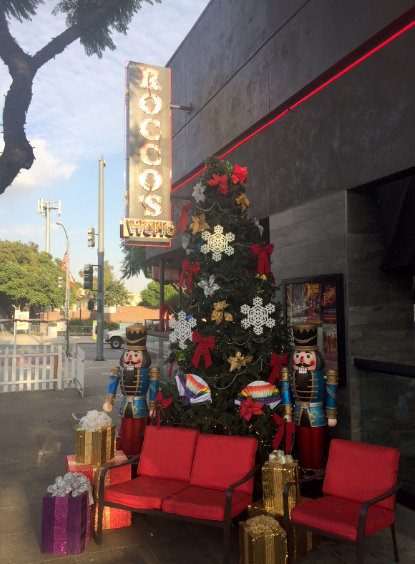 Los Angeles County's order banning outdoor service at restaurants went into effect the night of Nov. 25. That ban was scheduled to last just three weeks, ending on Dec. 16.
The county's public health department banned the outdoor dining in an effort to stem the growing number of COVID-19 cases, saying that restaurants were at least a partial cause of the coronavirus surge since people have their face masks off while eating and drinking.
A Superior Court judge ruled the county acted "arbitrarily" and "failed to perform the required risk-benefit analysis" before enacting that ban in a hearing on Dec. 8. He also said the county has only presented "generalized evidence" of transmission risk from outdoor dining.
However, the judge's ruling did not reopen outdoor dining at LA County restaurants because by that point, the state of California had imposed a three-week safer-at-home lockdown order upon the Southern California region. That state-mandated lockdown, which went into effect on Dec. 7, also banned outdoor dining at restaurants (take out orders and delivery still allowed).
The state's regional lockdown order is currently scheduled to end on Dec. 28. However, with some now calling Los Angeles County the epicenter of the pandemic, it seems likely the state's lockdown order will be extended beyond Dec. 28.
On Sunday, LA County reported 5,549 people hospitalized with COVID-19, with 21% of those people in the ICU.
Hospitalizations have been steadily rising in the past month. In the last two weeks, hospitalizations have increased by approximately 200 people a day.
During the past week, the county has been averaging 14,136 new cases a day and 84 new deaths a day.
LA County, with a population of 10 million, has a cumulative total of 623,670 people who have tested positive for COVID-19. That means approximately 1 in every 16 people in the county has had the virus at some point since the pandemic began.
A total of 8,875 people in the county have died from the virus since March.