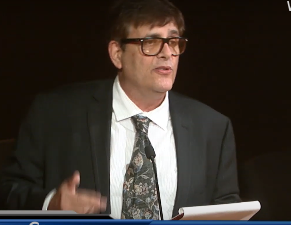 Resident Larry Block delivered his annual Christmas poem during Monday night's West Hollywood City Council meeting.
First offered in 2013, Block's poem, done as a parody of Clement Moore's 1823 poem, "A Visit from St. Nicholas" (more commonly known as "'Twas the Night Before Christmas"),  has become a much anticipated part of West Hollywood's holiday season.
Block's poem always provides commentary about happenings within the city in the past year. This year's poem offered that yearly commentary, but also offered a new twist.
This year's poem included comments about several items on the Council's agenda on Monday night – renaming the West Hollywood Library, help for small businesses affected by COVID shutdowns, adding a crosswalk in the colors of the transgender flag and updating the rainbow crosswalk.
In year's past, Block has always done this poem in person at the City Council meeting closest to Christmas. However, since all city meetings moved online this year because of the coronavirus pandemic, Block did this year's poem over Zoom.
Block also talked of his plan to make sure WeHo residents have a good meal for Christmas. See the end of the poem for details.
Below is the poem in full:
Hello everybody this is the 7th edition
The last one of this holiday tradition.
–
'Twas a week before Christmas in the land of WeHo
Most businesses closed and nowhere to go.
–
Two new reindeer were the voters selection
Both John Heilman appointees won the election
–
Now the ladies are running the show
Three females, a Cis Man and Mr. D'Amico.
–
I am a he, a him, what's your pronoun?
Time for everybody to learn the new lingo in town!
–
Item 2BB, the rainbow crosswalk is not about race
It's a universal symbol of diversity on earth and in space.
–
Yay on the transgender crosswalk but it belongs on Crescent Heights
Leading to Matthew Shepard Square a shrine for Trans-rights.
–
Item 5B, a discussion on small businesses
We need more help in this toughest of Christmases.
–
Item 5C, naming our library should be a community decision.
There has been no public process on this lifetime revision.
–
Painting streets and buildings names are not the top iss-ues
We need policies that you all commit to
–
Times are tough perhaps you can waive permit fees.
Or ask the county assessor to roll back property taxes please!
–
Masks that everybody needs cost just a few cents
Have we allocated funds to support vaccines for residents?
–
We need you to help us open our doors
And help get people back on the gym and dance floors!
–
We need customers to make our day
What's your plan for re-booting Eat, Shop, and Play!
–
I'm going to end with an offer for those who need a meal
Christmas dinners on me, and that is for real
–
So Merry Christmas Everybody and Happy Holidays
Looking forward to 2021 is all I can say!
–
If you're a West Hollywood resident in need of a Christmas dinner WeHo
Wish is here to help make your Christmas better. Please call 310-729-4050
or send an email to larry@wehowish.org. And I would like to thank former
planning commissioner John Altschul for offering to offset 50% of the cost of the
WeHo Wish Christmas meal program.
Thank you everybody, I appreciate you!