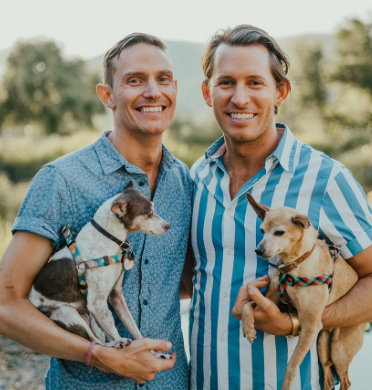 This week's episode of We Know WeHo takes a slight turn to focus on the world of "WeHomade" cottage industry entrepreneurs. It appears that the cheeseburger and mole obsession has spilled over to now include the world of candles as the team talks to AK² Candles that are made in West Hollywood and a favorite local gift item mentioned by Rachel in the Lovely in LA episode.
Adam Krell and his partner Anthony Kraus created AK² Candles (AK Squared) after ordering a simple DIY candle making kit early in quarantine that turned into a candle-making hobby with gifting friends and family their unique creations. The candles are hand-poured in West Hollywood using custom scents and fragrances and feature names inspired by the streets of WeHo. From scents inspired by Lexington, San Vicente, La Peer, and so much more, the 100% all-natural soy candles are made from American-grown soybeans and carefully mixed with luxury scents from the Wooden Wick Co. out of Laguna Beach, California.
Maxine and Tracy are tickled that each of the We Know WeHo team has chosen very different scents that all seem to ideally match their personality:
Lauren – Poinsettia (Frankincense and Myrrh)
Maxine – La Peer (Orange Blossom & Fig)
Tracy – Londonderry (Smoked Cedar and Leather)
It seems that Adam and Anthony's WeHo favorites mirror Tracy & Maxine's with sushi from Jinpachi and Fish8, the Cacio e Pepe pizza from Pizzana and of course, the fabulous La Peer Hotel patio bar. Spoiler alert….the new and very popular La Peer candle was inspired after a deluge of aperol spritz' at the hotel's bar.
AK² Candles can be found on Etsy and through their Instagram (@candlesbyaksquared) and are fun gifts year-round for your friends who live in West Hollywood. You can use the code WKWH10 for 10% off in their Etsy shop (valid through 2/1/21).
FOOD & FASHION
Last week's episode featuring Pink Dot inspired both gals to check out a few of the items Sol mentioned including a chicken pesto sandwich made in the onsite kitchen on a fresh baguette for Tracy and a Nonna's empanada and Zooies' cookie for Maxine.
If your holiday dinner tradition is ordering take-out Chinese, Tracy and Maxine run down a list of places here in WeHo including Formosa Café, Chin, Dumpling Monster and an order of West Hollywood Wonton Soup at Kung Pao Bistro.
With New Year's Eve a week away, it isn't too early to think about your plans and pre-ordering dinner. Go all out with Connie & Ted's Shellebration lobster dinner menu that of course includes a baked stuff lobster and lobster bisque to help your taste buds celebrate.
Maxine's last minute gift ideas include great gift card deals she spotted from Katana, Ole Henricksen and Tocaya. If you are looking for a little bling in a box, head to Samira13 on the Sunset Strip for elegant Tahitian pearls and the House of Fisher on Doheny for vintage Parisian looking chunky baubles.
NEIGHBORHOOD NOTES
Bikes and Hikes has a new location right smack dab in the middle of WeHo on La Cienega & Santa Monica if you are looking for a new bike for the new year or a fresh tune up on your old set of wheels. For a little holiday joy, check out the snow-covered hillside and giant snow globe directly up the hill at the top of La Cienega.
HEALTH & WELLNESS
You do not want to miss Tracy's conversation with this week's second guest, Kiana Reeves, who is the Chief Brand Officer at Foria Wellness. Mathew Gerson launched Foria in 2013 with their first product, Pleasure, and promptly gained notoriety for what became known as the original "weed lube," effectively creating the category for cannabis in sexual wellness. In addition to enhanced pleasure, Foria's products can be used to alleviate symptoms of endometriosis, vaginismus, other pelvic and genital pain conditions, provide relief of menstrual and menopausal challenges, and support overall wellness through tonics, lubes, bath salts, suppositories and more.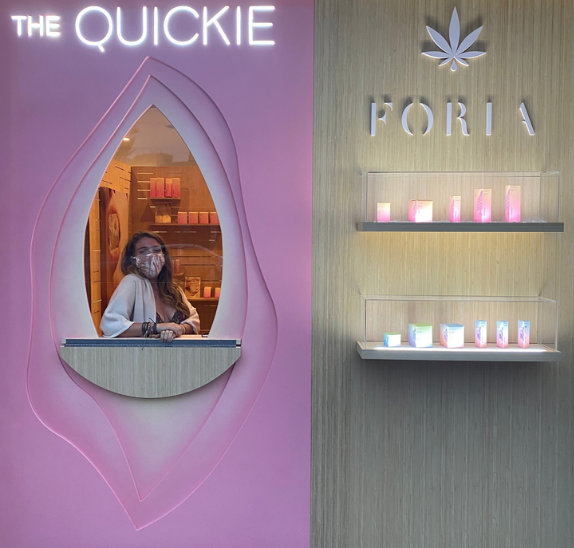 As much as you may think you know about cannabis, cannabinoids, the body's endocannabinoid system, and CBD you are sure to learn a thing or two as a broad scope of topics are covered by Tracy and Kiana to help demystify the stigmas around the plant and its ancient use in healing remedies. For a deep dive, head to the blog their website that is highly educational and covers all the topics their products support.
Tracy of course, ventured down to check out the very uniquely shaped "The Quickie", Foria's pop-up on Rose Avenue in Venice at the location where the business was founded. Foria Wellness products can be found online and are also carried by West Hollywood dispensaries including Artist Tree, Calma and MedMen. The Quickie pop-up is open Thursday – Sunday through the end of December from 3 p.m.–8 p.m. Insider tip: the drive West is worth it as The Quickie is on the same block as American Beauty's Win-Dow for a memorable cheeseburger to go.
WEHO ADJ.
For a little something merry and bright to increase your holiday cheer, Tracy highly recommends hopping in the car with your quarantine team and heading to the Irwindale Santa Speedway or Ventura Fair holiday light drive thru experiences. Both guaranteed to put a big smile on your face and bring a little joy to the little child in all of us.
Happy Holidays, we hope you all made Santa's "nice" list this year! See you next week for a 2020 wrap up.
Listen to the episode here: