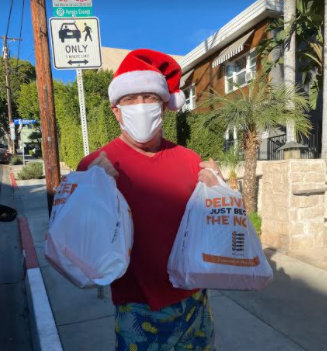 Christmas this year was a little merrier for some West Hollywood residents who got free Christmas meals from WeHo Wish. The nonprofit started by resident Larry Block delivered Christmas meals to 12 residents who needed it.
"WeHo Wish 12 days of Christmas was 12 full meals, all prepacked from Norms," Block told WEHOville. "Christmas Dinner included soup and salad, turkey, mashed potatoes and stuffing with cranberry sauce and gravy and pumpkin pie for dessert. All the meals were pre-packed from Norms and were delivered to 12 WeHo residents who requested meals."
Block announced at the Dec. 21 City Council meeting that WeHo Wish was providing the meals to any residents who needed a good meal for Christmas. All they had to do was call and request the meal be delivered to them on Christmas Day.
The announcement was done at the end of Block's annual holiday poem about the year's happenings in West Hollywood, which he delivers at the City Council meeting that falls just before Christmas.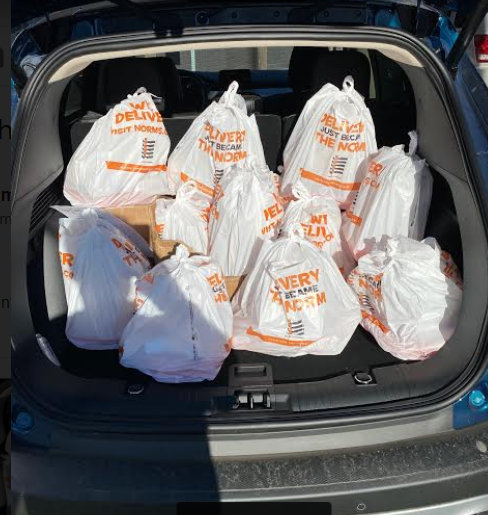 Block reported some people were reluctant to take him up on the offer.
"Some residents were shy to ask for a handout and one asked that we leave at his door, another didn't want to give their full name," said Block. "It was sad for me to see the tear in somebody's eye, or the fear that they didn't have enough to eat. It's the least I can do for a community that has supported me so much over the years."
Block's longtime friend, resident John Altschul, covered half of the cost of the meals with him.
In previous years, Block has delivered Christmas meals for Project Angel Food, the local meals on wheels nonprofit. This year, he was inspired to do it for WeHo residents through his WeHo Wish, which he started in 2019 to provide items to residents in need.
Early in the pandemic, when face masks were hard to find, WeHo Wish provided face masks to WeHo residents who could not afford to buy them. More recently, WeHo Wish donated carts to the low-income residents of Harper Community Apartments at 1260 Harper Avenue, so they could transport items inside the building.
"We all need to stick together during these tough times, it helps us build character as a community and I'm glad to be able to help," Block said. "There is nothing that can be more comforting then seeing a smile on somebody's face instead of the tear in their eye."
For more information or to donate to WeHo Wish, visit the website: www.wehowish.org