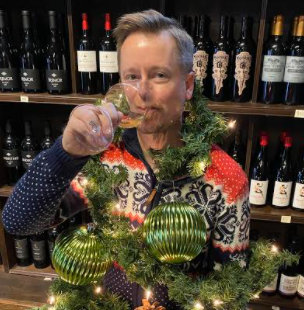 Welcome to the final episode of We Know WeHo for the year. Can you believe it?  What started out as Tracy's passion project to help small businesses during COVID-19, has evolved into 37 episodes and counting. This week, Tracy welcomes both of her co-hosts, Lauren and Maxine, for a final recap of what has been a really crazy year. 
As we get ready to kiss 2020 goodbye, the ladies share a love for yummy treats and bubbles. Their guest this week is Michael "Mikey" Consbruck, owner of V Wine Room West Hollywood, the city's only bona fide wine tasting room.  
Warning, this week's episode is super juicy and clocks in at 1 hour and 25 minutes. As we all settle into another mandatory stay-at-home order, pour yourself a glass of wine and settle into this week's podcast.
Mikey grew up on a farm in Nebraska where he worked with his dad and uncle and grew to love farming and graduated with a degree in agronomy followed by a master's degree in journalism and advertising. He ended up falling in love with the world of wine after answering a Craigslist ad that simply read, "do you like wine," during an economic downturn, a move that lead to Mikey working as a wine rep for a small Northern California winery to buyers in Southern California.
Mikey opened V Wine Room in February of 2013 to serve unique wine varietals. He chose a 1930's library-themed, speak-easy style décor for the historic space because it was originally used by Charlie Chaplin as an actor's studio and then become the library from 1929-1941 for the then unincorporated Los Angeles County area known as "Sherman" (now the fabulously incorporated city of West Hollywood).
Mikey's vision was to bring boutique California wine producers who produce 2,500 cases of wine or less in a year to the public.  Located at 903 Westbourne Dr, V Wine Room acts as an extension of these wineries, as many do not have their own tasting rooms and rely on their wine clubs almost exclusively for sales.  Over the past seven years, he has expanded to find unique blends and labels from different continents and the "old world".  
Tracy and Maxine love to talk, and they both love wine and they can't help but get into a brief 101 wine primer with Mikey. The girls also love bubbles and Mikey has much to choose from for your NYE celebration (or any occasion) including two different Champagnes (from Champagne, France), Cremånt (from Burgundy), Lambrusco (from Italy), and Cava (from Spain), all priced reasonably from $17 to $60 on their wine list.
If you mask up and pop in, Mikey and his team of wine docents are sure to guide you into something unique based on your palette. And they are currently offering 20% off. (You can also order through delivery platforms Postmates, Grubhub and Doordash where wine lists are updated daily to reflect the current stock.)
V Wine Room is open until 10 p.m. on December 31st, don't forget to pick up the makings for your own cheese board with a wide selection of cheese, meat, olives, flatbread, specialty jams and a soy candle made by Mikey's husband. As with many businesses, COVID has brought several layers of a business pivot for V Wine Room and you can help them into 2021 by contributing to their GoFundMe campaign.
Stay tuned next week as Mikey selects bubbles to match Tracy, Maxine and Lauren's unique personalities and taste profiles!
Other highlights from the episode: 
FOOD
New Year's Eve Plans Quarantine Style: Boa, Cavatina, Cecconis, Cobblestone Goods, Craig's, Eveleigh, Gelson's, Katana, Madre, Margot, Mauro's Cafe, Norah, Petrossian, Pura Vita
Cocktails & More:  WeHo Night Market by Employee's Only, John & Pete's, Trader Joe's, V Wine Room (duh) 
The Great Steak Off:  Carlito's Gardel, Fresh Corn Grill, Lala's, Boa
Burger Challenge: Astro Burger, Belcampo, Dialog Cafe, Hi Ho Burger
Onion Rings: Astro Burger, Connie & Ted's
Grab & Go: Alfred's, La Boheme,
Sweet Tings: Fresh Corn Grill; Le Salon de The
Iced Tea: Tesse, Tocaya Organica, Alfred's
GIVING BACK & MORE
Donating/Resell Clothing: Out of the Closet, Poshmark, RealReal
Giving Back: Blood Drive at Cedars Sinai
HEALTH & WELLNESS
Covid Testing & Resources: Barney's Beanery (outdoor testing), Cedars Sinai, The Doctor, The Solution
Staying Fit: Health House, Megaformer Studio, F45, Peloton App
RIP
Till we Meet Again: Cycle House, Rise Nation
To all of our readers and listeners, thank you for listening and supporting the podcast.  Please make sure to subscribe, read more here and follow WKWH on IG stories for daily deals and more.  See you next year!   
Listen to the episode here: