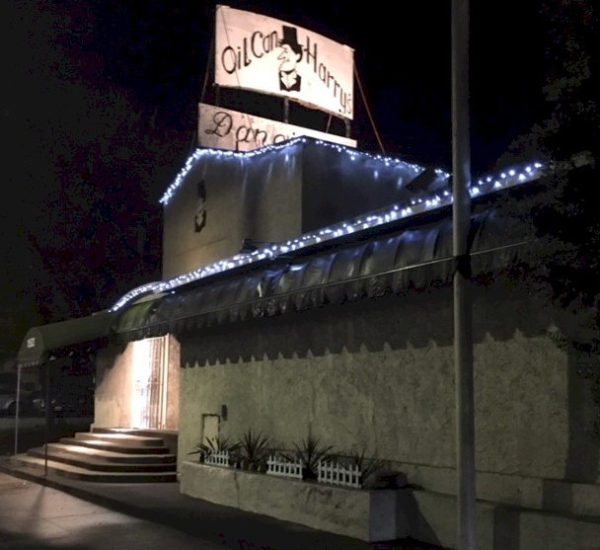 Another gay bar in the Los Angeles area has announced that it is closing permanently, joining a growing list of LGBTQ establishments that have shut their doors for good in the past nine months.
Oil Can Harry's, the Studio City country-western bar known for its line dancing, announced that it will not reopen when the coronavirus-restrictions are lifted. The property, located at 11502 Ventura Blvd., has been sold and the new owner intends to open a jazz club there.
A message posted on the Oil Can Harry's website by owner John Fagan on Monday reads:
"Happy New Year to all!
2021 has not brought great news to OIL CAN HARRY'S. The property sold in December thanks to Monty and Jon just needing to shut another establishment. It was purchased on December 9th by a new buyer, who want to have their own venue with jazz music.
So, at this time, I have to vacate the property – nothing bad or ugly, just something I have to do.
I fought hard to keep it, but just had to give up. . . Not sure where it will lead down the road.
Thank you for this beautiful gift we shared for 52 years.
Please, no negative posts on social media! It only hurts. Only positive would help!
Any help would be wonderful . . ."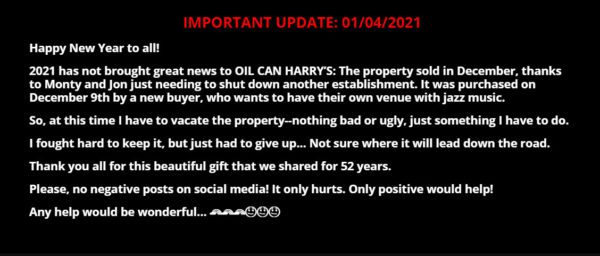 This news came as a surprise because Fagan posted on Facebook in early November that "the only reason Oil Can Harry's is closed at this time is strictly due to COVID-19 and will reopen when allowed."
That November Facebook post indicated the property was for sale, but once the sale was completed, a new owner would work with Oil Can Harry's on terms for a new lease.
Fagan has not responded to WEHOville's calls for comment, but the Monday post announcing the closing seemed to indict Monte Overstreet, the man who sold the property, when it said, "The property sold in December thanks to Monty [sic] and Jon just needing to shut another establishment."
The new owner of the property is not known at this time. The sale is so recent, the property records online have not yet been updated.
First opened in 1968, Oil Can Harry's was a favorite venue for country dancing, but it was also known for its disco nights on Saturday nights. Over the years, the venue hosted many LGBTQ and/or AIDS related fundraises. It was one to the few bars that managed to be known across the region, yet still had that neighborhood water hole feeling.

Like all other bars and nightclubs in the region, Oil Can Harry's has been closed since March due to the coronavirus pandemic.
The state allowed bars and nightclubs to reopen for two weeks in June with limited occupancy. However, when many bars failed to enforce social distancing protocols and COVID-19 cases began to spike again, Gov. Gavin Newsom ordered them closed again.
Oil Can Harry's joins a growing list of LGBTQ venues that have closed their doors since the pandemic began:
In the case of the four West Hollywood venues, the businesses were not able to come to an agreement on lease terms. Overstreet was the landlord for three of WeHo venues – Rage, Flaming Saddles and Gold Coast.
Because of the pandemic, the state of California has issued an eviction moratorium for residential and commercial properties, meaning the businesses cannot be evicted for failure to pay rent during the moratorium period. However, the businesses are still responsible for paying the back rent once the moratorium is lifted.
Currently, that moratorium is set to expire on Jan. 31, but it may be extended given that the pandemic is raging to its worst levels yet and the Los Angeles area is being called the epicenter of the pandemic.
RELATED STORY: With Oil Can Harry's Closing, Is Property Owner Monte Overstreet to Blame?