WRITERS' NOTE: This podcast was born out of the desire to support our local businesses in trying to make a small difference in the corner of our world here in West Hollywood in the midst of a global pandemic. It is also our intention that our weekly conversations bring a little hope and fun to your week as we are in yet a new stage of this ongoing crisis. We were in the middle of recording Wednesday when the event in DC transpired, and as we submit the column for this week, we are holding space for the healing of our country.
Happy New Year WeHoans! Yes, that term came up today during the interview with Jordan Ogron from Tesse today. Make sure to take a listen as he unpacks how this Sunset Strip gem has managed to stay fresh and reinvent itself more than once during the pandemic.
Jordan Ogron has a very impressive history in the local hospitality scene including his GM position at Bestia DTLA.
Tesse Restaurant located at 8500 Sunset Blvd. is a dream come true for Jordan Ogron who teamed up with industry veteran Bill Chait and Chef Raphael Francois to realize his dream of owning his own restaurant.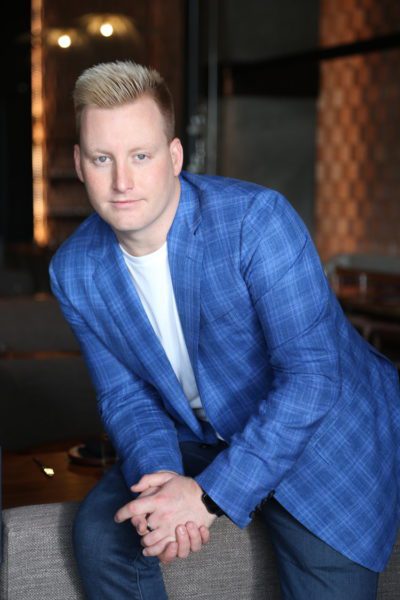 Although Chef Raphael uses the word "simple" to explain his food, and doesn't want to do Michelin Star food anymore, the cuisine at Tesse is undoubtedly due a Michelin star (or two) in Tracy and Maxine's opinion. They agree with Jordan that the dish that most surprises the palette is the Bucatini with Bone Marrow, Chef Raphael's take on a carbonara that is the number one selling dish that put Tesse on the map.
That blue neon key is the sign for Boutellier Wines unique wine store concept from Jordan with a focus on wines you can't find elsewhere. Jordan drops the interesting data point on wine consumer behavior that approximately 97% on all wine sold is $15 or less a bottle. Boutellier's selection varies from $15 all the way up to very exclusive finds with a price tag to match. Tesse Cafe that served as a bodega concept in the initial pivot also carries a selection of bottles from Boutellier with "focused shelves" of $20, $30 and $40 bottles of mixed sparkling, white, rose and red.
In the meantime, Lauren is back on the mic with Tracy and Maxine this week as they talk New Year's resolutions and of course, their favorite things to eat, do and more this week.
Food: Bossa Nova, The Butcher's Daughter, Found Oyster, JAR, Katana, Mel's Drive In, Otus Thai Kitchen, Pura Vita, Ruam Mitr, Sushi Tama, Tesse, Whole Foods
Drinks: Boutellier Wine Shop, Employee's Only
Burger Challenge: Shake Shack
Guest Picks: Moreno's, Employee's Only, Tock
Fashion: Polka Dots & Moonbeams
Things to Do: Regarding Her, Stranger Things Drive In
Health & Wellness: Cedars-Sinai blood drive, Health House, Pressed Juicery, Rollbar @ La Peer rooftop
COVID Resources: new Exer Urgent Care, The Doctor
Arts: Weho Arts
WeHoVille Best of WeHoville 2020 Winners
That's a wrap for this week! Please make sure to join our podcast fam produced by Tracy, read more with links at Maxine's blog, and follow the IG where Lauren curates daily deals and more.
Listen to the podcast here: