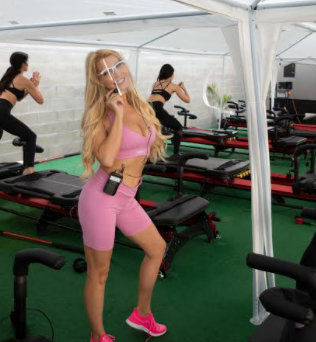 This is WeHo, and we know many of you may have "fitness" on your list of New Year's Resolutions. Meanwhile, Tracy (aka Sporty Spice) has been craving a fitness guest while Maxine loves to bring the glam (aka Vanity Girl) and Lauren needs a bit of edge (aka Lola).So, this week's guest, Carrie Minter of Carrie's Pilates Plus, was perfect for this second week of January.
Carrie has been a health and fitness advocate since her teens. A model at fifteen, she has worked with top designers including Valentino and Versace, and graced the covers and pages of Seventeen Magazine, FHM, Esquire, Maxim and Playboy. She also happened to live at the Playboy Mansion during the Holly, Kendra & Bridget days if you remember the show "The Girls Next Door."
She is also a total boss. Carrie's Pilates Plus classes are high-energy and leave people sweaty and sore from the high-intensity programming. She wants to make sure it feels like a party and her instructors create a vibe that is fun, entertaining and will make your core and booty shake like nothing else. She pivoted early in the pandemic with offerings like outdoor classes, online sessions and an upcoming Teacher Certification for those looking to expand their skill set.
She has been certified in Pilates for more than ten years, and in 2013 opened Carrie's Pilates Plus. In addition to curating a highly qualified and caring group of instructors, Carrie's helps clients of all ages transform their self-image and bodies via exercise and nutrition education. Her bright, optimistic and cheery spirit can be felt throughout the studio as she aims to create a fun community of people who want to work hard.
Carrie is also an advocate for animal rescue and actively supports several animal rescue groups. Her favorite local spots include Tortilla Republic, The Grove and Vanderpump Dogs.
Food & Fashion
Food: The Burger Challenge is over, and ended with Astro Burger (and Tracy sneaking one of Maxine's zucchini fries.) Stay tuned as the girls explore a Mac & Cheese challenge inspired by last week's guest, Jordan of Tesse. Let them know in the comments below if there is a must have Mac & Cheese spot to put on the list.
More food please: Bludso's, Craig's, Eveleigh, Gracias Madre, Joan's on Third, Katsuya on Third, Taco Vega (featuring Corsa coffee).
Shopping: Amazon Pop Up, Polka Dots & Moonbeams
Health & Wellness
Vaccine Sites: Dodger Stadium
Quarantine at Home: As our stay at home orders get stricter to account for the rise in cases, self-care Sunday is in full effect. Lauren, Maxine and Tracy are in love with their AK2 Candles (hand-poured right here in WeHo and names after our City Streets). Other items on the at home ritual include: Borghese Fandango mud mask, Epson salt baths, DP Hue for dying those pesky greys, and Jergen's self-tanning lotion.
Neighborhood
Congrats to Sol from Pink Dot who received Business License Commission approval to move forward with his new cannabis business, Greenwolf WeHo, slated for the Sunset Strip.
That's a wrap for this week and let's stay in touch!  Please subscribe to the podcast produced by Tracy, head over to Maxine's blog for more links, and/or connect with us on Instagram as Lauren curates daily deals, etc.  We are now on Twitter @weweho! See you next week!
Listen to the podcast here: