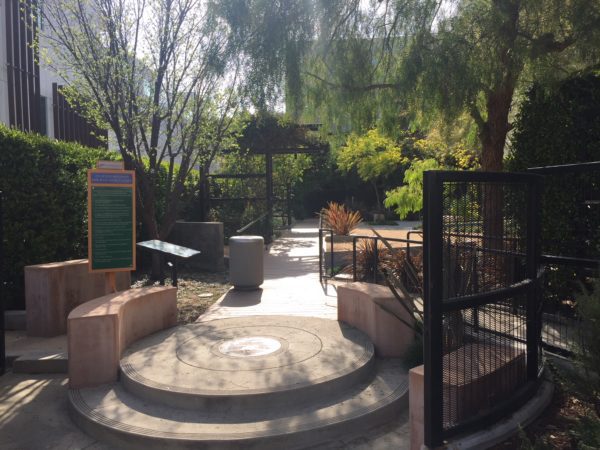 Hard to imagine a wildlife habitat in an urban area as developed as West Hollywood is. Nonetheless, the city is now home to not one, but two certified wildlife habitats.
The city's two pocket parks – Formosa Park and Havenhurst Park – have both been named certified wildlife habitats by the wildlife conservation nonprofit National Wildlife Federation (NWF).
The certified wildlife areas within the two parks are gardens which will primarily attract birds and butterflies plus insects like bees. However, the areas may also attract some small mammals, reptiles and amphibians. The wildlife areas contribute to the overall health of the ecosystem in an area.   
"This helps the city of West Hollywood meet its goals to become healthier, greener, and more wildlife-friendly," said City Councilmember Lauren Meister. "Every habitat garden is a step toward replenishing resources for wildlife, such as bees, butterflies, and birds. Climate change is real, and each thing we do to help our urban wildlife helps in the fight against climate change." 
Councilmember John D'Amico concurred.
"Supporting and welcoming back native plants and animals to our city is part of our larger sustainability efforts," said D'Amico. "And we encourage everyone with a garden of any size to certify their garden asa community wildlife habitat with NWF."
Wildlife habitats can be certified through a combination of five defined elements:
Food — Native plants provide food eaten by a variety of wildlife. Feeders can supplement natural food sources.
Water — All animals need water to survive, and some need it for bathing or breeding, as well.
Cover — Wildlife need places to take shelter from bad weather and places to hide from predators or hunt for prey.
Places to raise young — Wildlife need resources to reproduce, and to protect and nourish their young.
Sustainable practices — Maintenance performed in natural ways to ensure soil, air, and water stay healthy and clean.
Using a NWF  certification checklist,  Formosa Park has obtained 21 elements and Havenhurst Park has obtained 20 elements out of a minimum of ten elements required to receive certified wildlife habitat designation.
Formosa Park is located 1140 N. Formosa, just north of Santa Monica Boulevard. Havenhurst Park is located at 1351 Havenhurst Drive, just south of Sunset Boulevard. Both pocket parks were created in the late 2000s in conjunction with construction of an adjacent apartment building.
For more information about participating in NWF's Certified Wildlife Habitats Program, please visit  www.nwf.org/garden-for-wildlife.