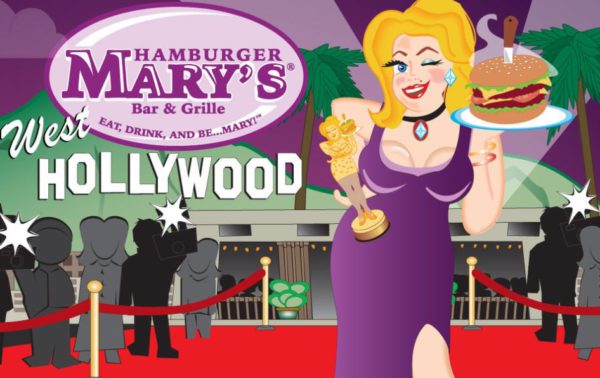 GoFundMe fundraiser pages have kept many business alive during the pandemic and now Hamburger Mary's is asking for help to stay afloat until the state allows it to reopen.
The popular restaurant located at 8288 Santa Monica Blvd., at Sweetzer Avenue, started a GoFundMe page on Tuesday night.
Known for charity bingo nights, drag shows, karaoke, trivia contests and more, Hamburger Mary's has been a WeHo staple since first opening in 2003.
The restaurant is hoping to raise $380,000 though the GoFundMe page, promising all money raised will go to pay incurred expenses, small business loan payments and utilities.
The page was created by Robert DiCecco on behalf of Hamburger Mary's owner, Dale Warner.
Below is the full text of the GoFundMe page:
"Mary Needs the Community's HELP!

Hey Family & Friends of Mary's, we hope all are doing well and safe .

Hamburger Mary's has been located in the heart of West Hollywood, CA (WeHo) since 2003 and is hoping, with your help, to remain there for many years to come.

Mary's has been a WeHo fun favorite and a inclusive institution for the community and travelers from all corners of the globe.

Mary and her entertainers have brought joy and acceptance to the world with countless Charity Bingo fundraisers, Karaoke, Drag Shows, Lip Sync Contests, TRIVA Nights and Comedy shows.

When COVID-19 hit in March , we had to close our doors to indoor dinning, which was 90% of our business. We did everything possible to stay in business from July – November , with the county of LA's on and off restrictions by only being open on Friday, Saturday and Sunday and then moving from indoor dining to the parking lot.

Surviving this devastating financial hardship has been extremely difficult. Although we did receive a small SBA loan at the beginning of the pandemic, Mary never expected the forced closures to go on and off for this long. Those funds have now been depleted and the new proposed COVID relief bill for small business does not go nearly far enough to help the decimated restaurant and bar industry.

We have lost too many historic venues resulting from this pandemic already, changing the face of our community & neighborhood.

All money raised will pay incurred expenses, business loan payments, utilities for the Weho Hamburger Mary's restaurant.

With your support, we'll be able to continue to be here for the neighborhood until we can safely reopen at 100%.

On Behalf of The Mary's Family, we thank you for your support during this difficult time and for the past 17 years and we look forward , for one day , to seeing everyone very soon where we can all drink, eat and be Mary .. again !!

Please be safe and share this with as many Mary's Friends that you know.

Thank You ,
Mary"