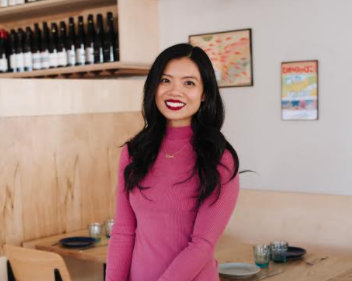 This week's special guest spotlight is on Lien Ta, the co-owner of  All Day Baby, a feel-good restaurant with the soul of a diner located on Sunset Boulevard in the Silver Lake neighborhood of Los Angeles.  Lien was a fellowship recipient of the James Beard Foundation's inaugural class of the Women's Entrepreneurial Leadership Program in 2017. She is also a founding member and committee lead of RE:Her, a charitable organization for women-owned restaurants in Los Angeles, created by women who own restaurants in Los Angeles, in response to how COVID-19 has impacted the businesses and communities. 
Tracy and Maxine talk to Lien about an incredible event she put together,  10 Days RE:Her, an inaugural food festival from Jan. 21-30 where women-owned restaurants all over Los Angeles unite to offer unique collaborations with other female chefs, thematic menus, one-on-one conversations among female industry leaders and more. In WeHo, Tara Punzone from Pura Vita is offering  a two-course meal, Otus Thai owner June Kasama is preparing a unique crab-and-pork omelet and is teaming up with Jill Bernheimer of DomaineLA to curate a natural wine list of women winemakers to pair with the Otus menu.
This is what our We Know WeHo team would call a WeHo adjacent (plus, plus plus) event from offerings throughout LA and as far reaching as Manhattan Beach. Of note a few of the team's WeHo adjacent favorites are part of the event including Ruam Mitr, Ronan, AOC, JAR, Banh Oui, Angelini Osteria and Little House Confections that is offering Lauren's favorite –"BOMB ASS OLIVE OIL" cakes.
 You will want to join in for these 10 special days to illuminate, celebrate and uplift the sisterhood of restaurateurs in LA to save her restaurants. We Know WeHo Insider Tip:  check out the amazing chef collaborations happening that are sure to create new flavor palettes and the lineup of virtual events and conversations from how to make Cacio e Pepe to a "de-mystifying" Scotch, plus Tracy's favorite, a cheese tasting collaboration with four women-owned cheese shops next Saturday!! 
Lien is a small business owner and has been impacted by the pandemic which has caused her to be an "accidental advocate" as coined by Maxine with trying to save her fun little restaurant in Koreatown called Here's Looking at You that suffered an indefinite closure on July 12th. Her second venture, All Day Baby, was opened for just three and half months before the mandated closure on March 16th.
This conversation will make your mouth water and send you running around town filling up your passport in hopes of enjoying as much as humanly possible in ten days. Our We Know WeHo trio have undoubtedly found their "people" with Lien's love of savory cheeses and her weekly "regenerative food" – cheeseburgers!
Food & Fashion
It looks like Lauren has gotten a head start on the Mac & Cheese challenge as Tracy was busy this week calling the contenders (Craig's, Tesse, Joans on Third and Bludso's) as requested by Mikey from V Wine Room so he can offer wine pairings in the affordable (under $20) and "sky's the limit" categories for the perfect gooey cheesy bite.
The Connie & Ted's team is taking a break until the Super Bowl, but you can put in your order for Super Sweet Super Bowl and Valentine's Day Weekend menus while savoring over their football snack-built stadium Instagram post.
Maxine confesses her latest Netflix binge-watching guilty pleasure of Bling Empire. We secretly love that this show is an "ode to WeHo" in that four of the show personalities live in WeHo and was filmed back in the BC (Before COVID) era with lively scenes shot around WeHo at AKA on Sunset, Formosa Cafe and 3rd Street Dance.
Health & Wellness
This week's segment is a bit alternative and even futuristic with Tracy's WeHo adjacent+ venture to experience The Harmonic Egg found at The Healing Studio in Santa Clarita. Tracy suspects there a few of these eggs floating around WeHo, likely at the residences of the Bling Empire cast. Things get a little "heated" as Maxine and Tracy get lost in their conversation about the joys of infrared sauna treatments as part of their self-care routines. Insider Tip: the girls recommend Remedy Place on Sunset and SaunaBar in Brentwood.
Neighborhood Notes
Congratulations to the Whisky which turned 57 this week. We hope to celebrate your 58th next year with you inside with some rock 'n' roll and a round of celebratory beverages!
The incredible Laverne Cox is part of a special panel next week for a discussion on the documentary Disclosure, produced by Netflix and directed by Sam Feder. The panel is part of the Human Rights Speaker Series sponsored by The City of West Hollywood and WeHo Arts. This is a free online virtual event on Wednesday, January 27th, 5-6 p.m. moderated by City Councilmember John Erickson. RSVP weho.org/hrss
See you next week and keep up with us daily on Instagram stories @weknowweho!
Listen to the podcast here: