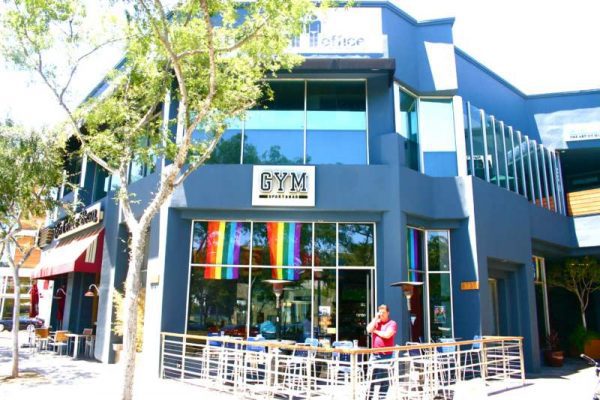 When Gym Bar reopens at its new location, it will officially change its name to Gym Sports Bar and Grill and begin serving food.
"We'll have an American menu – burgers, fries, wraps, chicken sandwiches, some breakfast items," general manager Gio Vitulli told WEHOville. "It will be the typical food you would expect to find in a sports bar, but it will be a little bit healthier."
Vitulli offered that taste of what's to come to whet the appetite for the new Gym Bar. He wasn't ready to share all the details of what they have planned, but did say they have "great things planned."
Gym Bar and Grille has started a GoFundMe fundraiser page to help with the expenses of the reopening in a new location. They are hoping to raise $75,000 from the public.
Vitulli explains with some financing from the public, Gym bar can reopen even soon, possibly early spring.
"Help me build you a new home," Vitulli said of the GoFundMe campaign.
He's anxious to get the new place opened, reporting people frequently stop him on the street to say how much they miss Gym Bar.
"My husband and I live close to the boulevard and when we walk, we are constantly being asked, 'When is Gym Bar reopening?'," reported Vitulli. "People miss the place and want it back."
Vitulli and his husband, entertainer Gary Thomas (who recently launched a virtual variety show called Headliners), are celebrating their 22nd anniversary on Wednesday (Jan. 27). The two met while living in Las Vegas, where Vitulli worked at the Imperial Palace.
During the recession, the couple moved to West Hollywood. Vitulli worked for two years at Rage before moving to Gym Bar where he was the assistant manager for seven years until it closed. However, at the new place, he will be the manager.
Gym Bar opened in 2009 at 8737 Santa Monica Blvd., at Hancock Avenue, in the space where the Normandie Room lesbian bar had been located. It quickly became a popular spot due to its laid back atmosphere.
It was a destination for many recreational sports players like the people who played dodgeball in the West Hollywood Auditorium or the people who played kickball, tennis, flag football, etc. with the Varsity Gay League rec sports teams.
"We really became a home for the dodgeball kids and the kickball kids," said Vitulli.
In July, after being shut down for four months due to the coronavirus pandemic lockdown, Gym Bar announced it was  closing for good. Gym Bar officials said that property owner, Elias Shokrian of Calitex LLC in Beverly Hills, was unwilling to be flexible with the terms of the lease.
Gym Bar was the first of four gay bars in West Hollywood to close permanently due to lease problems connected to the coronavirus pandemic. The others were Flaming Saddles, Rage and Gold Coast.
However, it turns out Gym Bar did not close permanently. Vitulli declined to name the exact location where the new Gym Sports Bar and Grill will open, saying that will be announced shortly.
However, it is widely rumored that Gym Sports Bar and Grill will be moving into the location at 8919 Santa Monica Blvd. which housed the Halal Brothers restaurant until it closed during the pandemic. Before that, the Champagne French Bakery Cafe was in that location.
Meanwhile, Vitulli bubbles with enthusiasm saying people are going to like the new location even more.
"This is an exciting time. I'm so glad this is happening," said Vitulli. "I can't wait to be part of the community again."