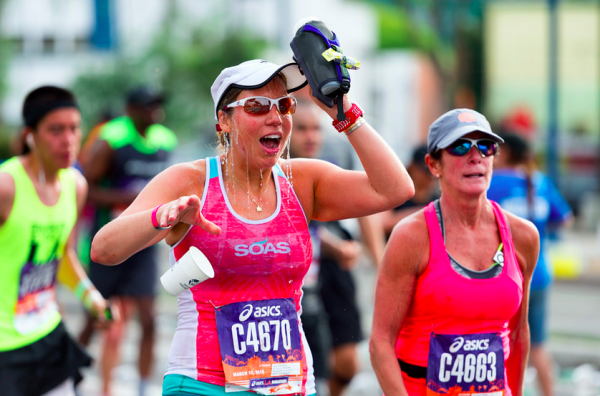 The Los Angeles Marathon has always been a favorite among West Hollywood residents whether they were participating as runners or cheering those runners on as they dash through West Hollywood as part of the annual 26.2 mile run.
Although the marathon has traditionally been held in March since its inception in 1986, the coronavirus pandemic is forcing the event to be delayed until the fall.
An exact date hasn't yet been determined as all the cities involved, plus the health department, police department and other governmental agencies, must sign off on a new date.
This is the second delay for the 2021 marathon. It was initially pushed back from March 21 to May 23, but the slow vaccine roll-out has caused it to be pushed back again.
"Given the current state of the pandemic in the Los Angeles area and the pace of the vaccine roll-out, the Rose Bowl Half Marathon & 5K, the LABig5K and the Los Angeles Marathon presented by ASICS will be rescheduled for the fall 2021," marathon officials posted on Facebook.
"We are currently exploring available dates with our host cities and venues. This process will take some weeks and a decision regarding new dates will be announced as soon as possible. All decisions will be made with the health and safety of all athletes, volunteers and city officials as our top priority."
Whatever date is ultimately decided upon, this year's marathon will NOT go through Santa Monica. Since 2010, the LA Marathon has followed a "Stadium to the Sea" course, starting at Dodger Stadium and ending in Santa Monica. However, marathon officials say this year the city of Santa Monica dramatically increased the costs of running through the city.
Instead, this year the course will be a "Stadium to the Stars" course from Dodger Stadium to Brentwood, then doubling back to end in Century City on Avenue of the Stars.  
The marathon began running through West Hollywood in 2010 when it began following the Stadium to the Sea course – entering the city on Sunset Boulevard, turning south on San Vicente Boulevard, then heading west on  Santa Monica Boulevard into Beverly Hills.
It is unclear how the new Stadium to the Stars route will affect the West Hollywood leg of the marathon.
The marathon has been held in March every year except 2009 when it moved to May and 2016 when it was held in February to coincide with U.S. Olympic Trials.
The 2020 LA Marathon was held on Sunday, March 8, 2020, the last major event West Hollywood hosted before the pandemic forced the shutdown.