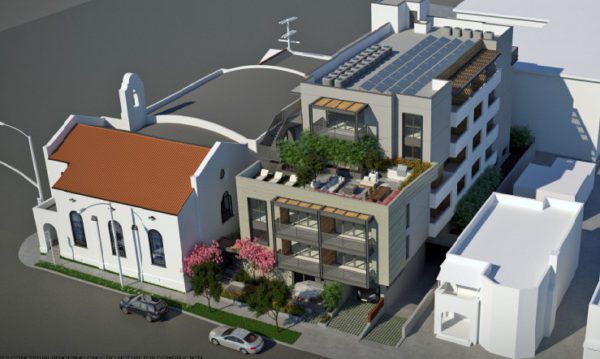 Plans to rehabilitate the historic Crescent Heights Methodist Church building and construct a new apartment building on an adjacent lot received mixed reviews Thursday at the Design Review subcommittee meeting of West Hollywood's Planning Commission.
Located on the southeast corner of Fountain and Fairfax avenues, the historically designated church built in 1924 will be transformed into a space for creative offices. The exterior of the Mediterranean Revival-style building, which has not offered worship services in almost a decade, will be restored while the interiors will be renovated.
Meanwhile, the adjacent parish house which is not historically designated, will be demolished to make room for a new five-story 25-unit apartment building, designed by West LA-based Plus Architects.
The unit breakdown is 16 studios and nine one-bedroom apartments, including four affordable units with two units designated for very-low income residents and two units for moderate income residents. A two-story underground garage will have 13 residential parking spaces and 27 commercial parking spaces reserved for office workers.
The commissioners were happy with plans for the church and had few comments about that building. As for the apartment building, they felt it was headed in the right direction, but needed more work. The primary criticism was that the north and south facing sides with individual balconies for each unit ends up looking like a parking deck.
"The south and north elevations felt very much like you were comingling a parking structure with an apartment building," said Commissioner Rogerio Carvalheiro.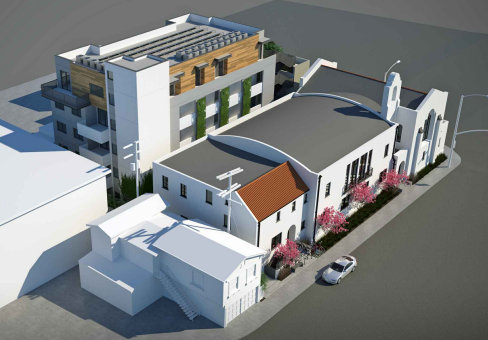 Commissioners were also concerned about communal outdoor areas on the ground floor and fourth floor being immediately adjacent to a private balcony, saying it wouldn't offer much privacy to the residents of those units.
Commissioner Sue Buckner also felt the studio apartments were too long and narrow and therefore were unattractive. Commissioner Lynn Hoopingarner was concerned the studios didn't have enough storage space and felt the kitchen areas needed to be rethought.
During the public comment period, resident Lynn Russell criticized the sharp contrast of styles between the old building and the new building.
"The main event is the church, but I know the main financial event is the development. If there was a way of getting more harmony between those two that would really be wonderful," said Russell. "It really has a very harsh presentation to it."
However, Hoopingarner liked the contrast, while Carvalheiro said the two styles allow each building to stand on its own with no doubt which is historic and which is new.
Los Angeles-based Alpine Equities, LLC is developing the project which next goes to Historic Preservation Commission for review.