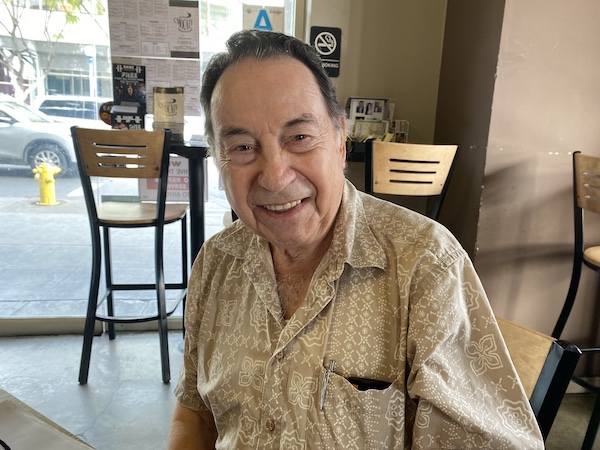 Guenter Keunecke, a West Hollywood resident known for his fight to preserve the old clock on the southwest corner of Santa Monica Boulevard and Fairfax Avenue, is being accused of offering guns for sale online but never delivering them after he receives payments from the buyers.
The alleged sales have been made on ArmsList.com, a website that is used to buy and sell firearms. California law bans the such sales of firearms by anyone who is not a licensed dealer. Someone convicted of such a sale could face up to six months in county jail and a fine of up to $1,000 for each sale.
Joseph Chesanow, a resident of Bellingham, Wash., began investigating Keunecke after he sent a $355 money order to purchase a Hi-Point 35 Carbine pistol which Keunecke was advertising on ArmsList.com to Keunecke's West Knoll Drive address in August. He was planning to modify it into a Bullpup as a gift for his brother, a recently retired Navy veteran.
Chesanow never received the pistol. He then discovered complaints from others about the same issue. A lawsuit was filed in Los Angeles Small Claims Court by Craig Lintz, a resident of Cincinnati, Ohio, who is suing Keunecke for $595 after he didn't receive the WWII handgun he purchased. An April 2021 trial date has been set.
Paul Payne, who lives in Tennessee, is also suing him for $550 after not receiving the firearm he purchased.
Chesanow said he has been contacted by another alleged victim, Jose Andrés Jimenez of Fontana, Calif. A search of the Los Angeles County Superior Court database shows that Keunecke has been involved in five small claims lawsuits since 2007.
Chesanow said he wants to raise awareness about such scams on social media. He posted on Keunecke's Facebook page the screenshot of text messages between him and Keunecke about the gun purchase. In it, Keunecke gives his West Knoll address and attaches a copy of his driver's license. That license was altered to state that he was born in 2019. Keunecke, a native of Germany, actually is in his eighties.
Keunecke disputes the allegations. In a telephone interview, he said that the guns were being sold by woman named Sarah Scissors, who lives in Accra, Ghana. Keunecke said the woman is in poor health and needed money. He agreed to help her by accepting the money orders in his West Knoll apartment building mailbox. He said he then wired the money to Scissors, who was to ship the firearms.
In a later email, he explained the situation in a slightly different way, saying, "I was helping a lady that is stranded in Accra, Ghana to survive until she can get a flight back to the USA."
Keunecke reported he is trying to resolve the complaints filed against him by having Scissors wire money from the buyers to him so that he can reimburse those who didn't receive the guns they purchased.
Keunecke couldn't explain why screenshots of a message between him Chesanow, which include an image of his driver's license and his address, say that when the payment has been made "he" will make arrangements to ship it. Additionally, the shipping fees charged to buyers were for shipping within the United States and not from Ghana to the United States, which would be much more expensive.
Chesanow said it is difficult for him to find a lawyer who would represent him in this matter because of the small amount of money involved. "Lawyers don't want to take on small cases like this (even with a $2,000-3,000 retainer) as there are only 3 confirmed victims so far for a grand total of $1,300 in loss," Chesanow said in an email message.
Chesanow believes that if a lawsuit is filed it could become a bigger case if others come forward. He is considering asking if he could be added to Lintz's suit against Keunecke or filing a separate small claims suit on his own.
Earlier this month, Chesanow presented information about the issue to Lt. William Moulder of the West Hollywood Sheriff's Station, who said he would pass it along to the L.A. County Sheriff's Department's Detective Bureau. Chesanow said a deputy at the West Hollywood Station told him that he should instead file a claim with law enforcement in Bellingham, Wash., where he lives. He said that so far he has no knowledge of whether the matter is under investigation by the Los Angeles County Sheriff's Department.