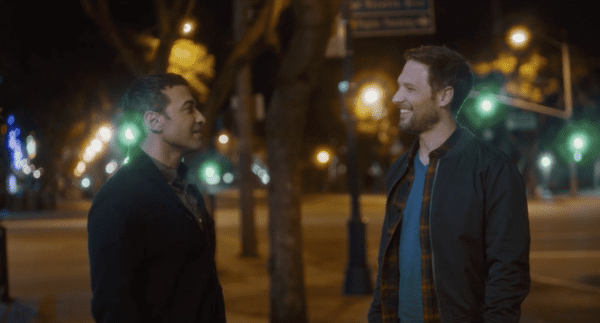 Writer/director Mike Mosallam's new film, "Breaking Fast," is set in and around West Hollywood. This new romantic comedy follows Mo ("Nurse Jackie's" Haaz Sleiman), a practicing Muslim still reeling from heartbreak. It's the first night of Ramadan, when Mo's best friend, Sam (Amin El Gamal from Hulu's "Good Trouble"), forces him to come out to his birthday party. There, Mo meets Kal (Michael Cassidy of TBS's "People of Earth"), an all-American white guy, and Mo's opposite in every way. The two have an unlikely spark, which leads to a nightlong walk through the streets of West Hollywood. When Kal offers to join him in his nightly Iftars, the traditional meal eaten by Muslims during Ramadan, the two start to discover they have more in common than meets the eye.
This is a very personal story for writer/director Mosallam because there haven't been many programs that spoke to him and his journey in life.
"I wanted something that looked like me and my friends. The kinds of conversations that I have in my life. That was not reflective of me in any of the movies or TV that I had been watching, whether it was ethno-centric or queer-centric or the intersectionality of both," Mosallam said. "The narrative that's out there currently is that people, Muslim or otherwise, in the queer community have a fractured relationship with faith. There's a contingency of folks who have reconciled those two identities as living, not in conflict, but in harmony with one another. With me, that's just second nature and, for me, it was important to show what that looks like in the context of a film."
Actor El Gamal also appreciated the story's originality and its potential for opening peoples' eyes.
"I initially wasn't that inspired by the rom-com format, but the more I worked on the film, the more I realized how brilliant and subversive the choice of genre is," said El Gamal. "Rom-coms propose an ideal world and they highlight who is worthy of love. We haven't seen that for queer Muslims before. Also, the genre is inherently light, frothy, and entertaining. So I think people will enjoy the charms of the movie so much, they won't even realize that they've learned a thing or two about Islam or queerness or Arab culture. I think the film really has the potential to open people's minds and hearts."
According to Cassidy, audiences of the film were also enthusiastic about its subject matter. "When we were doing film festivals over the summer, people would say it was so great to see a gay film that wasn't about bullying," he said.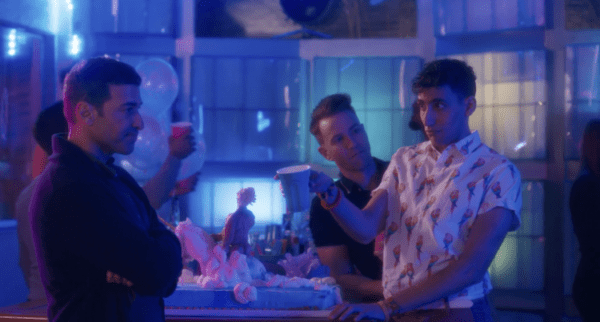 Though this story could have been set almost anywhere, Mosallam always thought that it needed to be set in West Hollywood. Think of how many movies and TV shows you've watched where the setting is one of the characters; where a particular show just possibly couldn't have been set anywhere else. When writing the script, Mosallam always envisioned West Hollywood as one of the main characters.
"It was always written for West Hollywood," Mosallam reported. "There were some earlier discussions with a potential investor who was interested in setting it in New York. We immediately knew how that would change the story since this is a very LA story. It was not something we were interested in since we were very much interested in highlighting LA and WeHo.
"Even if we had set the film in Chelsea, Chelsea is very different than West Hollywood and we were going for a very specific vibe. Mo is a doctor and Cal is an actor and when you put them together in the [WeHo] scene, everyone is sort of equalized. If you're in a city of thousands, your circle might not intersect with other circles. In West Hollywood, you know people who know people who bring you around other people. It's just an interesting way of interacting with folk and meeting folk. We really tried to make West Hollywood a character on its own, because it is such a character."
Shooting a film in Los Angeles can be tricky due to the high cost of getting permits and the red tape involved in procuring them. Many shoots are done in places like Vancouver or Georgia, for example, to save money, boosted by various tax break incentives. Mosallam knew "Breaking Fast" couldn't be filmed anywhere else and explained that the city of West Hollywood, and its residents, welcomed the film with open arms.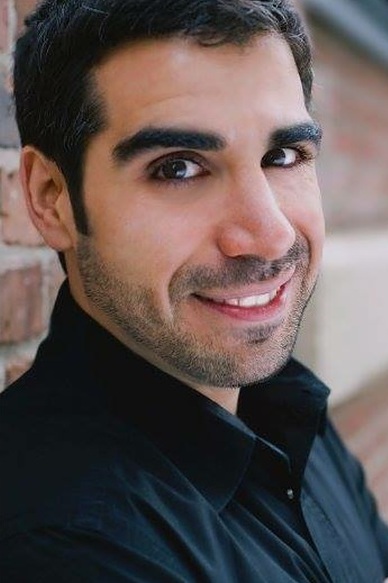 "The city of West Hollywood was so great to us," said Mosallam. "After the [release of the original] short film, we were given a proclamation for honoring West Hollywood and for building bridges between communities. It was awesome since we were a small film with a small budget without a lot of hands to help us. In the film, when the bars are letting out, the bars were really letting out, and we just seized the day on that. A lot of the locations were fans of what we were trying to do and rallied. Revolver is a big centerpiece in the film and was great to us."
Cassidy also enjoyed the support they received while filming on location.
"Shooting in West Hollywood was an absolute blast when we were out there," Cassidy said. "There were a couple of nights where we were outside of bars when they were closing. And it was pouring rain and people were having a good time and they wanted to know what we were doing. They want to hear about it, and they wanted to know who was in it. They were fantastic. There was such an enthusiastic response."
Mosallam, El Gamal, and Cassidy all have ties to West Hollywood, to one extent or another. For Mosallam, it was his home.
"Up until five months ago, I had lived in LA for over nine years. With the exception of five months, I lived in West Hollywood for the entirety of that time. It was the epicenter of my LA life," said Mosallam. "I think everyone moves to a big city to experience the highs and lows of what a big city is. While I'm not necessarily someone who loves to go to the bars, I love that that culture exists and creates such a life within the town itself."
El Gamal admitted that he has missed "cavorting" at Hi Tops and Revolver, along with the camaraderie that WeHo provides, during the pandemic.
"I remember going to a karaoke night at Fiesta Cantina all alone many years ago," El Gamal said. "I was a baby gay at the time and didn't really have any gay friends. It was terrifying at first, but after 20 minutes of awkwardness, I made some lovely new friends singing 'Proud Mary' and had one of the best nights ever. It's incredible how in a city as massive as LA, WeHo still has that warm, welcoming, small-town vibe."
While he's a fan of Cecconi's and Craig's, Cassidy, who isn't a WeHo resident, appreciates that the city, as well as the film, is diverse in their representation.
"As someone looking in who doesn't live in West Hollywood, I appreciate the different colors of gay men," Cassidy said. "Like, [in the film], you have a doctor who doesn't like going out. His friends do like to go out and have men with giant penises riding a unicorn on the birthday cake."
Now, if you've spent any time in West Hollywood since the early 2000s, you've heard Kelly Clarkson music from one place or another. Mosallam is a huge fan of Clarkson, and lists his favorite Kelly songs as "Dark Side," "Sober," and "My Life Would Suck Without You." He explained why his Twitter bio says that she is his anti-drug.
"I feel so connected to her like so many do who were just there from the start," Mosallam said. "In that first season of American Idol, I had just moved to Michigan after 9/11 and my life was in a very different place than it is now. I just remember loving her and we've been through a lot together. She needs me and I need her and we love each other."
El Gamal mentioned that, although Judy Garland would be his personal "anti-drug," he loves Clarkson's "Stronger (What Doesn't Kill You)."
While not his anti-drug per se, Taylor Swift has been a big part of Cassidy's life lately. "I'm a huge Taylor Swift fan right now," Cassidy said. "She delivered for our family during the pandemic with those two albums. She's been a ball for my wife and me."
Whether you're a Kelly, Judy, or Taylor fan, or whether you're a low-key doctor or a more flamboyant unicorn rider, there might just be something for you in West Hollywood, and "Breaking Fast."
"Breaking Fast" is now streaming on Apple TV, iTunes, and Amazon Prime Video.
Watch the trailer: