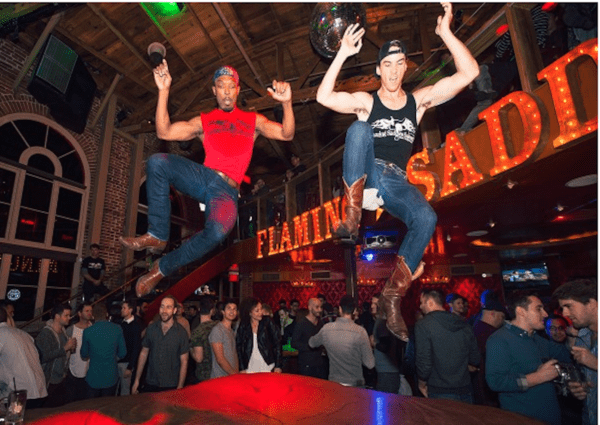 Jacqui Squatriglia, the co-owner of the now permanently closed West Hollywood gay bar Flaming Saddles, initially figured they would go through tough times when the bar was forced to close last March at the start of the coronavirus pandemic, but though they could survive it.
"As the pandemic got worse, we were like, okay, as long as everyone just stays healthy, we can dig out later. It's just going to be a fiasco of a fiscal nightmare, but let's just stay healthy and dig out on the other side," Squatriglia said during a recent segment of the "Greater LA" news program on radio station KCRW (89.9 FM).
She reported having a good relationship with landlord Monte Overstreet, the man who owns the building at 8811 Santa Monica Blvd. which housed the country-western bar. Squatriglia figured she and Overstreet could work out an equitable arrangement to deal with upheaval of the pandemic.  
However, the relationship soured as the pandemic dragged on. Finally, unable to come to an agreement with Overstreet, they were forced to close Flaming Saddles permanently in August.  
The KCRW segment by reporter Danielle Chiriguayo discussed the sad state of LGBTQ bars in greater Los Angeles with many closing permanently and others struggling to stay alive during this pandemic.
So far, eight LGBT-focused establishments in the LA area have permanently shut their doors due to the pandemic, including long-running bars Rage and Gold Coast in West Hollywood and Oil Can Harry's in Studio City.
In addition to Flaming Saddles, the KCRW segment also talked to the owner of the Redline bar in downtown Los Angeles as well as the general manager of The Eagle LA in Silverlake. Both bars remain closed due to pandemic shutdown orders, but hope to reopen once restrictions are lifted.
Redline owner Oliver Alpuche and Eagle general manager Hunter Fox each talked about how they are struggling to pay bills and stay afloat with no revenue coming in.
Both bars have started GoFundMe pages hoping to raise money from patrons to cover expenses until they can reopen for business. CLICK HERE for the Redline GoFundMe page. CLICK HERE for The Eagle LA GoFundMe page.
Redline's Alpuche commented that it is a bizarre reversal of situations when a gay bar, which often is donating to causes or hosting fundraisers, is suddenly the one that is asking for help.
Listen to the KCRW segment here: