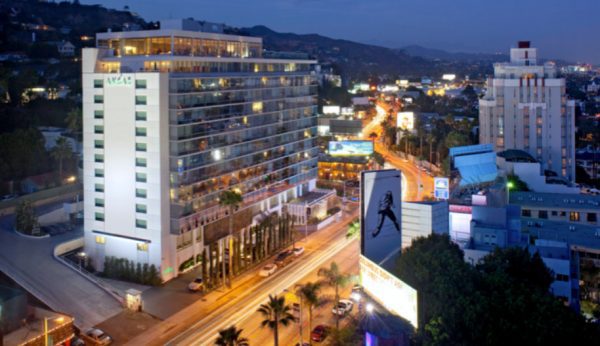 Movie theaters are still closed due to pandemic-induced social distancing requirements. Ditto comedy clubs and music clubs. But here's a way to get out of the house and be entertained while still social distancing.
Drive-in movies are returning to West Hollywood. The Sunset Strip Late Night Drive-In returns this weekend offering screenings of classic movies plus pre-movie entertainment by area comedians and musicians.
Each weekend, the rooftop of the parking garage at the Andaz Hotel at 8401 Sunset Blvd. is transformed into an old-fashioned drive-in theater. People can stay in their car and enjoy the movie and the live entertainment with sound transmitted through the car's radio thanks to an on-site low-frequency FM radio signal.
Attendees can also order snacks, a meal or even beer, wine and cocktails in advance and then pick them up once they are parked. Of course, people will need to wear face masks while getting out of the car to pick up the food.
The Sunset Strip Late Night Drive-In debuted last summer with the mission "to preserve and restore sanity by having a few laughs and watch terrific movies as we continue to weather the storm during a pandemic that has brought this world to its knees."
That venture last summer proved successful enough to make a return appearance just in time for Valentine's Day weekend.
The screening schedule for the next few weeks is as follows:
Feb. 12 – The Shape of Water (2017)
Feb. 13 – Breakfast at Tiffany's (1961)
Feb. 14 – What's Up Doc (1972)
Feb. 19 – Friday (1995)
Feb. 20 – Shaft (1971)
Feb. 26 – I'm Gonna Git You Sucka (1988)
Feb. 27 – Carwash (1976)
Feb. 28 – Black Panther (2018)
The entertainment starts at 7 p.m. each night.
Admission is $50 per car. It's a flat fee of $50 no matter how many or how few people are in the car. The rooftop of Andaz parking garage has space for up to 50 cars, so advance purchase of tickets is needed to reserve you parking space. CLICK HERE to order tickets.
The producer of the event is Elizabeth Riley, who is working with YEA! Impact, a branding agency that works to promote social justice and donates a portion of its proceeds to Young Entertainment Activists, a non-profit group.
"Having the opportunity to partner with the iconic Andaz Hotel in West Hollywood to bring premier entertainment has been an amazing venture and we look forward to bringing so much more to the community while maintaining a safe environment and providing top tier entertainment," said Riley
YEA! Impact co-founder, Samuel Rubin said, "We're thrilled to represent the Late Night Drive-in franchise and we believe it offers vast potential to bring people together and drive positive social change."
The Andaz West Hollywood is the rock 'n' roll hotel once known as the Continental Hyatt House, which became the hotel of choice for many legendary bands, including Led Zeppelin, The Rolling Stones, The Who, Duran Duran and more. Several scenes from the 2000 movie Almost Famous captured some of the wild rock 'n' roll scene of the "Riot House."