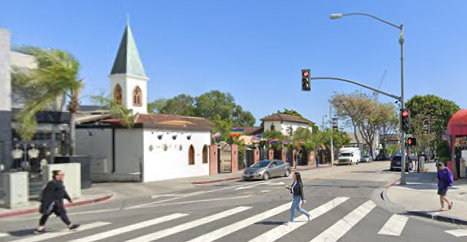 Should the city close off Robertson Boulevard in Boystown to vehicle traffic and make it into a pedestrian-only zone on Saturday nights and all day on Sundays? That's the question the West Hollywood City Council will consider at its meeting on Tuesday night.
Councilmembers John Erickson and John D'Amico are sponsoring the item which would close Robertson Boulevard between Santa Monica Boulevard and El Tovar Place, just north of Melrose Avenue, from 6 p.m. on Saturdays until 2 a.m. on Mondays.
The proposal notes the sidewalks on Robertson are often "overflowing" on weekend nights and vehicles have trouble maneuvering through the crowds of people that frequently spill onto the streets.
"Besides personal vehicles, this is a poplar pick-up and drop-off location for taxis and rideshare vehicles which causes more slowdowns," reads the memo on the item. "There are several new developments proposed or already approved in the Robertson Boulevard area – including West Hollywood Park Phase II, Robertson Lane, a new commercial building on La Peer, a mixed-use building at the site of the former Palm Restaurant, and Melrose Triangle – which will only add to the number of people walking and driving in the neighborhood."
The proposal suggests that by making Robertson into a pedestrian-only zone on Saturday nights and all day on Sundays, the OUT Zone dining areas could possibly be expanded into this area as well. It also suggests the pedestrian-only zone could serve as a weekend extension of West Hollywood Park, which is set to reopen in the fall.
During the week, including on Friday nights, Robertson would remain open to vehicle traffic.
In May 2012, D'Amico sponsored a similar proposal to make Robertson into a pedestrian-only zone on Saturday nights. However, it was shot down due to concerns about access to parking lots in that block of Robertson and fears a pedestrian zone might bring even more people to the already crowded area near The Abbey.
The City Council meeting will be held on the Zoom teleconferencing app beginning at 6 p.m. on Tuesday. The Council meeting is normally held on Mondays, but it is delayed by a day due to the Presidents' Day holiday on Monday.
Those who want to make a comment by telephone during the meeting are asked to email Acting City Clerk Melissa Crowder at mcrowder@weho.org no later than 4 p.m. on Monday to be added to the public speaker list for the meeting. Please include your name, the phone number from which you will be calling and what you wish to speak about.
Then, dial into the meeting ten minutes prior to the start. You will be placed on hold in the virtual meeting room until it is your turn to speak. The dial-in number is (669) 900-6833 and the meeting I.D. is 943 8398 2559, followed by the # symbol.
The City Council meeting can be viewed live on the WeHo TV portion of the city website (www.weho.org). Additionally, it will be broadcast on Spectrum Cable Television's Channel 10 within West Hollywood's borders. The meeting will also stream live on YouTube, Apple TV, Android TV, Fire TV and Roku by searching for "WeHo TV."