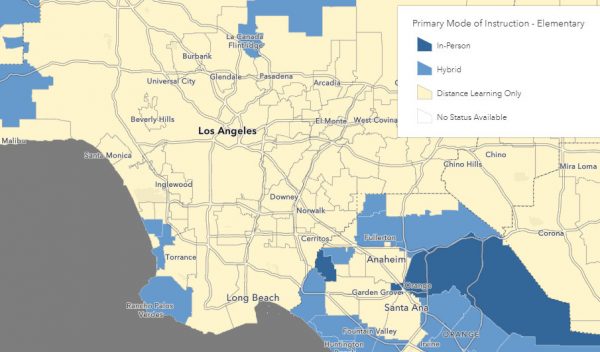 With debate continuing to rage locally and statewide about reopening schools amid the COVID-19 pandemic, California health officials have released an interactive map that allows Angelenos and others across the state to track the status of campus reopenings.
The Safe Schools Reopening Map provides data on the status of reopening and safety planning for school districts, charter and private schools in Los Angeles and across California. Officials hope it will help communities and school staff evaluate their own reopening plans.
Schools will update their information every two weeks, and the California Department of Public Health will add data on reported outbreaks in each school district and information about whether schools have partnered with the Valencia Branch Lab for COVID-19 testing.
"As COVID-19 conditions continue to improve and vaccinations ramp up throughout the state, this map will provide local communities with accessible, up-to-date information on how districts in their communities and beyond are adapting to the pandemic, including safety planning and implementation," said Gov. Gavin Newsom. "This map is one of many resources we have made available that will help school staff and families make informed decisions as we safely reopen our schools."
The map was created through a partnership between the state, county office of education and the California Collaborative in Education Excellence. It can be accessed at https://bit.ly/3jHh1xz.
Newsom has said he is nearing an agreement with state legislators on his proposed $6.6 billion plan to expediting the reopening of school campuses, with sweeping safety measures, limits on numbers of students in classrooms and protective equipment provisions.
But officials from several of the state's largest school districts, including Los Angeles Unified, have balked at the governor's plan, saying it falls short on funding for urban school districts. LAUSD Superintendent Austin Beutner and the United Teachers Los Angeles union have also called for campuses to remain closed until teachers and staff can be vaccinated — a position opposed by Newsom.
West Hollywood residents who are school aged and attend public school, attend schools – West Hollywood Elementary, Laurel Span School and Fairfax High School — that come under the auspices of LAUSD. .
On Friday afternoon, a group of parents from across California held a virtual news conference to urge that schools not be reopened amid what they call "critically high community transmission rates," as well as virus variants, lack of safety measures and unclear vaccine distribution plans.
"I'm here to represent many parents who don't agree that schools should be reopened because we know that COVID-19 is still impacting us and our communities … are still the epicenter of this pandemic," LAUSD mother Maria Osorio said in Spanish. "Frankly, a lot of those families who want schools to be reopened are probably more financially stable, they're more well off, and they live in communities where infection rates are much lower. And so the situation that we're facing is very different to the situation that they're facing."
Osorio, who has four children and lives in South Los Angeles, also noted that many LAUSD students take public transportation to school, so the risk of infection will not only come from learning inside classrooms, but from commuting to campuses.
Dawniel Delano-Wood, a mother of three who spoke at the news conference on behalf of Californians for Safe Reopening, said, "As a Native American myself, it's the absence of equity that has driven these families, such as mine and other indigenous, Black, brown families who want to keep their children at home …
"We prefer to stay at distance learning because we have immunocompromised family members, we also live with multi-generational family members, as well," she said. "And while there's a lot of people out there that are saying that schools are safe, the science points to schools being sites of community transmission."
On Friday, the U.S. Centers for Disease Control and Prevention released what it calls a roadmap of guidelines for the reopening of schools. The document urges local health officials to give "high priority to teachers in early phases of vaccine distribution," but it says vaccines are not required for in-person learning.
"Vaccinating teachers and school staff can be considered one layer of mitigation and protection for staff and students," according to the CDC document. "Strategies to minimize barriers to accessing vaccination for teachers and other frontline essential workers, such as vaccine clinics at or close to the place of work, are optimal. Access to vaccination should not be considered a condition for reopening schools for in-person instruction."
During the parents' news conference, Matthew Schneck, a teacher in San Diego, said "kids are not experiments," in response to a CDC report he said noted that COVID-19 variants require additional research and reopening guidelines may need to be updated.
"The CDC seems ready to admit that yes, infections will still happen even with all of these mitigation measures," he said.
United Teachers Los Angeles, which represents more than 35,000 teachers and school staff, reiterated in a statement Friday afternoon that the path to safe reopening must include vaccines for all school personnel; multi- tiered mitigation strategies, including testing and personal protective equipment; and lowered community transmission rates.
"We applaud the CDC's efforts for a national strategy to return to in- person instruction, but the new guidelines released on February 12 do not do enough to address the specific challenges of large urban school districts like LAUSD," the UTLA statement says. "And most troubling is that it does not require vaccinations for school staff, six-foot distancing in all schools, nor improved ventilation as a key mitigation measure."
Additionally, UTLA said Los Angeles must get out of California's most restrictive "purple" tier of the state's economic reopening matrix, which indicates the virus is widespread.
"While L.A. educators want nothing more than to be back in classrooms, the risk of community transmission of COVID-19 in Los Angeles County is still too high," the statement says.
Current state guidelines allow the reopening of school campuses for pre-kindergarten through sixth grade when a county's COVID-19 average rate of new cases drops to 25 per 100,000 residents. Los Angeles County's rate is currently about 31 new cases per 100,000, but it has been steadily dropping, and it could meet the required threshold as early as next week.
But Los Angeles County Supervisor Kathryn Barger on Friday sent a letter to Newsom calling for the immediate opening of all K-6 classrooms, while also asking that he allow grades 7 through 12 to open, even in counties like Los Angeles that are in the "purple" tier.
"The safety of reopening the classroom has been well-documented worldwide, and our children cannot wait another day to get back to school," Barger wrote. "While our youngest children have had the most difficulty accessing online education, the impact has been felt by children of all ages."
In response, UTLA said: "We ask those like Barger who are pushing to reopen in the purple tier and without lowered community transmission rates: How many infections and deaths are considered 'safe?"'