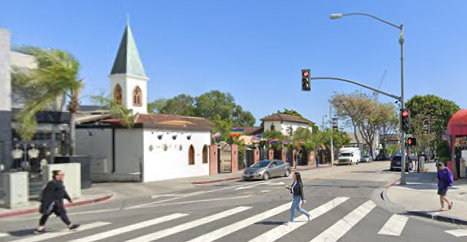 With a unanimous vote on Tuesday night, West Hollywood's City Council approved a plan to make a portion of Robertson Boulevard into a pedestrian-only zone on Saturday nights and all day on Sundays.
The plan, which will launch as a three-month pilot starting in mid-April, will close Robertson Boulevard to vehicular traffic between Santa Monica Boulevard and El Tovar Place, just north of Melrose Avenue, from 6 p.m. on Saturdays to 2 a.m. on Mondays.
That portion of Robertson Boulevard has narrow sidewalks and people often spill out into the busy street, especially near The Abbey and The Chapel nightclubs. By eliminating vehicles, it gives people more room to walk without fear of being hit by a car, thereby improving public safety.
In a discussion that consumed over an hour at the tail end of a six-and-a-half-hour long meeting, Councilmembers John D'Amico and John Erickson explained by sponsoring the item, they hoped to give city staff an opportunity to get creative with things to do with the community space.
They suggested possibly extending OUT Zone dining areas into the street or having food trucks there or having a mini street carnival. D'Amico also suggested possibly on Sundays having yoga classes in the street or 12-step recovery programs meeting there.
"We're trying to create this opportunity and then slowly fill it with a set of things that our city Community Development Department, through their OUT Zone experiences, can carefully curate or put into place," said D'Amico.
Erickson added they'd adjust things depending on the feedback they get from businesses and the community.
That portion of Robertson Boulevard would remain open to vehicular traffic during the week, including on Friday nights.
Seven of the 11 people speaking during the public comment period spoke against the idea. Several said it was unwise to launch a pedestrian zone which will attract more people to the area during the coronavirus pandemic when social distancing should be practiced. They said it would be better to wait until after the pandemic to start it.
However, Mayor Lindsey Horvath suggested it is the right time to launch it because there is less traffic and fewer impacts because of the pandemic. "If it can't work in these constrained conditions, it's definitely not going to work in everyday full-blown life [when pandemic is over]," Horvath said.
Most of those opposed lived in nearby areas and were concerned about traffic spilling over into residential areas when Robertson is blocked off.
Resident Manny Rodriguez, who lives just a few blocks away, called the idea "premature," saying there was not a proper traffic study and suggesting that Rangely Avenue, a residential street, would become a "Little Melrose" with lots of extra traffic.
However, Kristin Cook, the city's public safety director, said the city would make safety adjustments including adding public safety officers as needed.
Abbey and Chapel owner David Cooley phoned in to say he supports the plan, but added he was not behind the idea, saying he only learned about it 24 hours before the meeting. Cooley suggested the city also do the pedestrian zone on Friday nights, since Robertson is busy then too.
The Council was open to the idea of Friday nights, but opted to see how this pilot program works before adding Fridays.
D'Amico first suggested creating a pedestrian zone on Robertson on Saturday nights in May 2012, but the idea was shot down by the other councilmembers. After Tuesday's unanimous vote, D'Amico joked that he could now resign from the Council as getting this approved was "all he ever wanted to do."
WEHOVille readers agreed with the City Council's decision. Results of our reader's poll on the issue below: