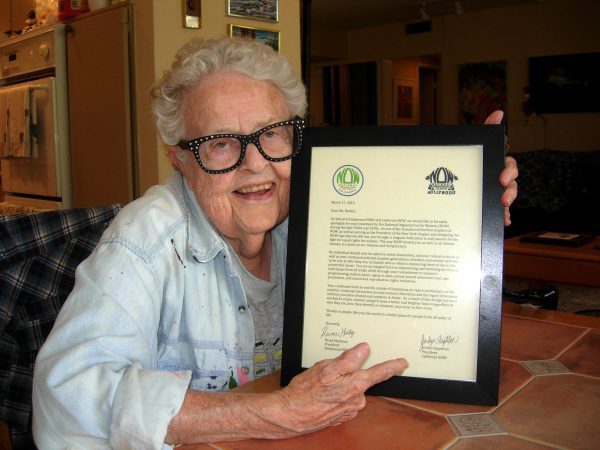 Iconic lesbian activist Ivy Bottini has died at age 94.
A champion of LGBT rights, she lived in West Hollywood for 22 years, but was in the greater Los Angeles area for over 40 years.
In 2019 with her health declining, she moved to Sebring, Florida to live with her daughter Lisa Santasiero-Perron and her wife Beth Perron.
In an interview with WEHOville shortly before moving to Florida, Bottini said that she would miss West Hollywood and her condo on Kings Road terribly, but it was time to go.
Born Ivy Gaffney on Aug 15, 1926, she grew up a tomboy in Malverne, NY on Long Island. Her father, Archie Gaffney, was a cab driver and amateur boxer. He taught her, as his only child, how to box, telling her, "You're a girl and you're going to have to defend yourself." Little did she know how much fighting she would be doing in her life.
Gaffney died in an accident when Bottini was 18. That left Bottini and her mother deeply impoverished.
The Pratt Institute of Art and Design gave Bottini a full scholarship to study advertising, graphic design and illustration, setting her on the path to an early career at art and advertising agencies in New York City and eventually as art director and illustrator at Newsday, the Long Island newspaper.
In 1952, she married Eddie Bottini, a neighbor, and the couple had two daughters, Laura and Lisa. But even before the marriage, she was beginning to question her sexuality.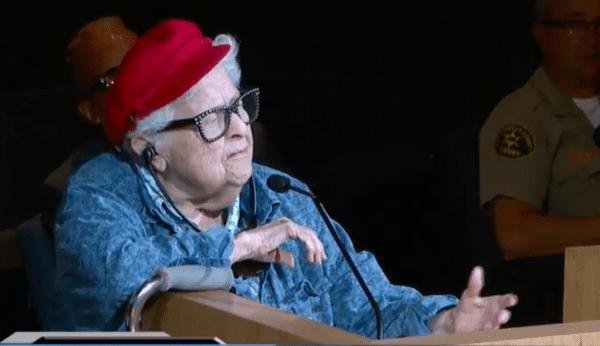 It was in 1966 when Bottini made a major life change after attending a meeting with Betty Friedan, the author of "The Feminist Mystique," a best-selling book credited with inspiring a wave of feminism that challenged the stereotype that a woman's role was as a wife and homemaker.
Friedan become the founding president of the National Organization for Women (NOW) and Bottini was inspired to help found NOW's first chapter in New York City, where she served as president for two terms. She also served for three years on the organization's national board.
"It was the first organization that cared about women," she told WEHOville in a 2017 interview. "It focused on women and their issues; not kids, not guys, but women."
As part of her NOW job, Bottini used a then-new technique called "consciousness raising," holding workshops where feminist issues and the way society treated women were discussed.
"I felt passionate to spread the feminist consciousness raising because it so changed women's lives," she said. "The groups I lead were political in nature. They lasted eight weeks with the goal of creating new activists at the end of it."
Bottini experienced another major life change in 1968 when she accepted the fact that she was a lesbian. She inadvertently came out on TV shortly after that. During a New York City NOW press conference, she was answering a question.
"I said, 'As a lesbian, I think . . .,'" she recalled. "I didn't even realize I'd said it at first. But the rest of the room did."
Once publicly out, she made lesbianism a feminist issue when, in 1969, she staged a panel discussion whose title was "Is Lesbianism A Feminist Issue?"
Bottini's feminist activism was very public. In August 1970 she led the New York City NOW Chapter in the first Women's Equality March down Fifth Avenue, which attracted tens of thousands of participants. Earlier that month she and other NOW members took over the Statue of Liberty in New York and hang a banner labeled "Women of the World Unite" across it.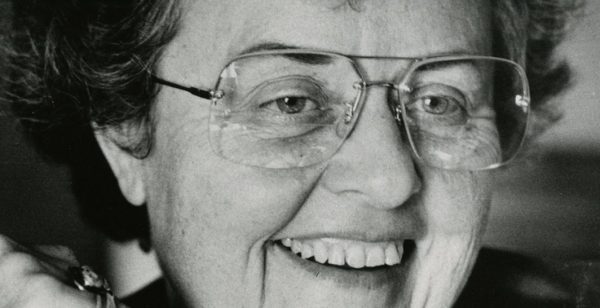 Bottini's position at NOW became tenuous as she continued to raise the issue of lesbian rights. During a protest march, Bottini helped other members distribute purple armbands to show support for lesbians. She saw Friedan in front of her and passed her an armband, saying, "Here you go, Betty." Friedan threw it to the ground and used her foot to grind it.
Bottini soon found herself voted out as president of New York City NOW, losing by just seven votes. She believed it was part of a larger effort, orchestrated by Friedan, to expunge lesbians from NOW.
"They wanted to keep lesbianism out of feminism," recalled Bottini, who also designed the logo that NOW still uses today. "And there were a lot of closeted lesbians in NOW."
In 2016, the Hollywood chapter of NOW and the state organization presented Bottini with a letter apologizing for the way she had been treated. The late Jeanne Cordova, an author, activist and longtime friend of Bottini's, proclaimed that "the Women's Movement's loss was the LGBT movement's gain!"
In 1972, Bottini divorced her husband and moved to Los Angeles to focus on acting, comedy and the nascent gay liberation moment.
In 1974, Bottini developed Grave's Disease, a thyroid condition, and moved back to New York so her mother could take care of her. After she got better, she intended to stay in New York, but fate intervened.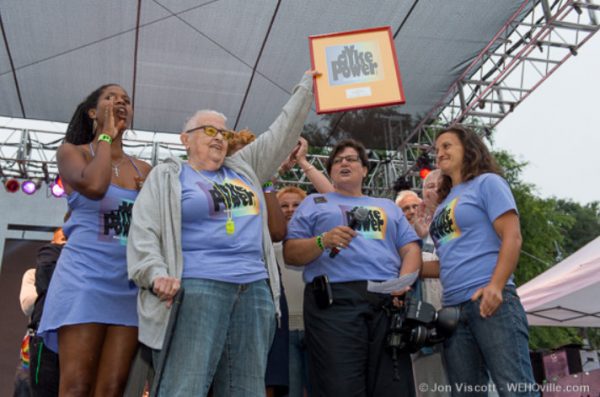 In April 1975, Bottini was staging a panel on lesbianism and feminism during a NOW conference in San Francisco when she met and fell in love with Dottie Wine. Madly in love, Bottini returned to California and the two moved in together. In the ensuing 45 years, they have had an on-again-off-again relationship, although mostly on. Even during the periods when they were not together, Bottini and Wine have remained close friends.
She toured the country for several years performing "The Many Faces of Woman," a lesbian feminist one-woman show. Bottini was hired in 1976 as director of the women's program at the Los Angeles Gay and Lesbian Community Services Center.
She took a leave of absence from that position and worked as the Southern California deputy director for the "No on Proposition 6" campaign, which successfully fought a proposal to ban lesbian and gay people from working as public school teachers.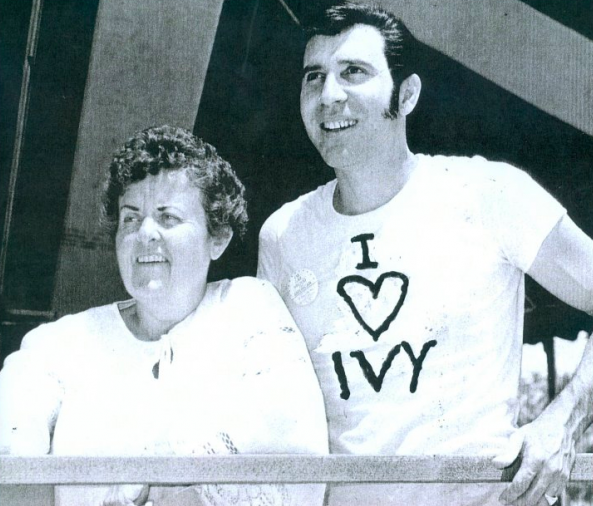 Bottini's activism continued. Gov. Jerry Brown appointed her as the first out gay or lesbian person to the California Commission on Aging. And in the early 1980s she co-founded the Los Angeles Lesbian/Gay Police Advisory Board. In 1983 Bottini founded AIDS Network LA, the first AIDS organization, which focused on collecting and sharing information about the epidemic. In 1984 she was one of the founders of AIDS Project LA (now APLA Health).
Her AIDS activism was as robust as her feminist activism. In 1986, she helped create "No on LaRouche /Proposition 64," a campaign to defeat a proposal by Lyndon LaRouche that AIDS be added to California's list of communicable diseases and that those with AIDS be quarantined in concentration camps. Bottini also organized gay rights marches and protests focused on AIDS. She also lobbied successfully to get the State of California to rescind its statute of limitation for sex crimes.
In 1999, Bottini was appointed to the City of West Hollywood's Lesbian and Gay Advisory Board, a position from which she worked to bring attention to crystal meth addiction and LGBT partner abuse.
Bottini also promoted the idea of creating affordable housing for LGBT seniors. Her work was instrumental in the creation of Triangle Square, a-104 unit assistive living, affordable income apartment complex in Hollywood for LGBT people 62 and older. Located in Hollywood, it opened in 2007.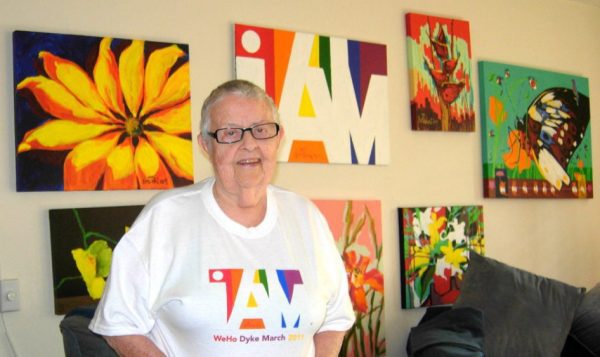 Bottini also continued to focus on another passion – art. Her apartment was full of modern paintings. She had one-woman shows and has been a part of group shows in Hollywood, Pasadena and West Hollywood. Her work includes political paintings and "large-bodied, nude women celebrating the joy of life."
Because she suffered from macular degeneration, Bottini lost much of her eyesight and her art shifted to less detailed images but she continued to do her art regularly.
An exact cause of death is not known at this time. She had been receiving hosptice care at home for the past several weeks. Bottini is survived by her daughters Lisa and Laura, and a grandson.
Funeral arrangements are unknown at this point. However, there will be a community gathering to honor Bottini on Sunday at 3 p.m. in Kings Road Park, 1000 Kings Road. It will be a socially distanced event with masks required.
RELATED: Read a detailed profile of Ivy Bottini which WEHOville ran in 2017.