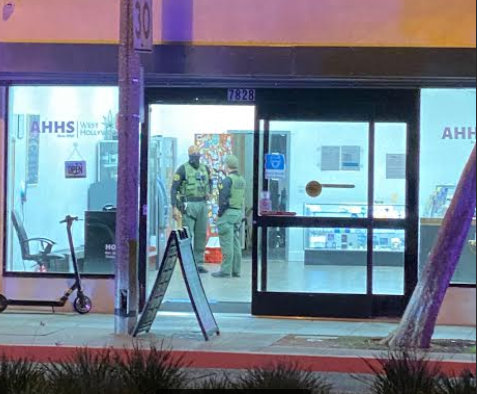 UPDATE: This appears to be a swatting incident and the swatter was arrested.
Sheriff's deputies were called to an incident at the Alternative Herbal Health Services (AHHS) cannabis store at 7828 Santa Monica Blvd., at Orange Grove Avenue, Friday about 8 p.m., about the time the store was closing.
An officer at the West Hollywood station confirmed to WEHOville deputies were called for a possible burglary at the site.
Resident Roy Oldenkamp was walking along Santa Monica Boulevard when he came upon the incident, telling WEHOville that deputies blocked off the surrounding streets and sent multiple squad cars to the scene.
Oldenkamp reported deputies were pulling people out of the store one by one with their hands up and there was talk of someone armed inside the store.
Despite all the deputies sent to the scene, the sheriff's station told WEHOville they found no burglary.
However, deputies did make an arrest on an unrelated matter while there.
Oldenkamp provided the photos and this video he took at the scene to WEHOville.