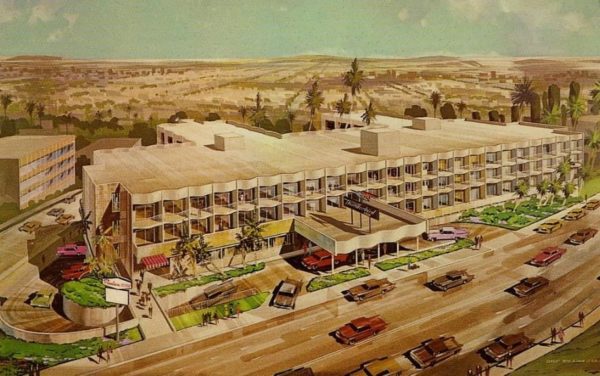 Now that the Standard Hotel has closed its doors for good, people are taking about what will happen to the building next, some fearful it may be demolished and replaced by a bigger structure.
Interior designer and preservation activist Jaime Rummerfield is taking steps to see the building at 8300 Sunset Blvd. doesn't meet the wrecking ball. That's why she's being pro-active trying to get West Hollywood to designate the Standard as a historic cultural resource. The building is not in any imminent danger, but better to get it designated now, rather than wage an eleventh hour campaign.
Through the nonprofit Save Iconic Architecture (SIA), Rummerfield is trying to get the mid-century modern Standard Hotel building historically designated and has started a GoFundMe page to raise the money to write the papers nominating it for historic status.
"We have witnessed far too much destruction with classic design buildings. In order  to have this not become a crisis, we're trying to protect a legend of the Sunset Strip," Rummerfield told WEHOville. "This building is a unique example of 1960s modern architecture of modern LA. If it were to disappear, it would be a tragic loss."
She explains the Standard is a quintessential California living structure with its indoor-outdoor living. "It's as interesting on the inside as it is on the outside," said Rummerfield.  
SIA is asking for $6,000 on the GoFundMe page. On that page, she explains, "Save Iconic Architecture is committed to nominating important structures and usher them through the historical landmarking process where they would otherwise continue to be unprotected and at risk for extinction.  This legendary building is currently not landmark protected. With your help, we can protect and preserve this special architectural gem so that it will live on as a symbol of Los Angeles' modern architectural history."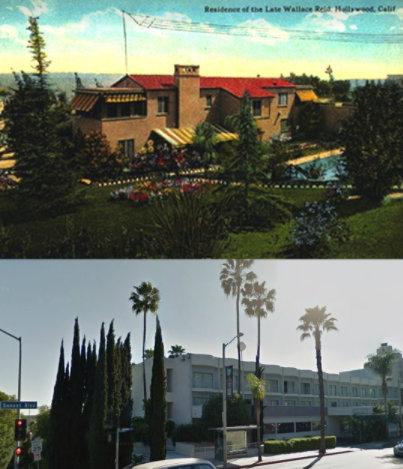 The Standard sits on land that once housed the estate of silent film star Wallace Reid. That estate was built in the late 1910s, about the same time as the William Hart house next door, which is now part of Hart Park.
The Standard building was constructed in 1962, one of the few commercial buildings designed by architect Herbert Kameon, better known for his residential architecture.  It initially opened as the Thunderbird Hotel, but by the late 60s changed its name to the Hollywood Sunset Hotel.
In the mid 1970s, it changed both its name and its use, becoming a retirement community known as the Golden Crest Hotel.
Hotelier Andre Balazs transformed it back into a hotel thanks to the backing of some celebrity investors including Leonardo DiCaprio and Cameron Diaz.
Despite being a boutique hotel that catered to people who were on a budget, when it opened in 1999, the Standard was an ultra-trendy spot thanks to a happening coffee shop and a busy poolside scene, complete with its blue astroturf.
SIA, co-founded by Rummerfield and her Woodson & Rummerfield's House of Design interior design partner Ron Woodson, wants to not only save the Standard, but also educate the public about the architectural heritage in greater Los Angeles.
"A lot of people don't appreciate the good design we have in this city," said Rummerfield, a Los Angeles native who lives in Highland Park. "We have witnessed so many beautiful buildings disappear. SIA is not only trying to preserve iconic buildings, but educate the public about good design and why it matters."
She believes Los Angeles has a tremendous amount of world-class architecture, but feels many people dismiss it because it isn't 200 years old.
"Some developers and some people who are responsible with shaping the city's architecture are being negligent and non-mindful in preserving the architecture we have here," she said. "Our history is what informs the future and also shapes the future."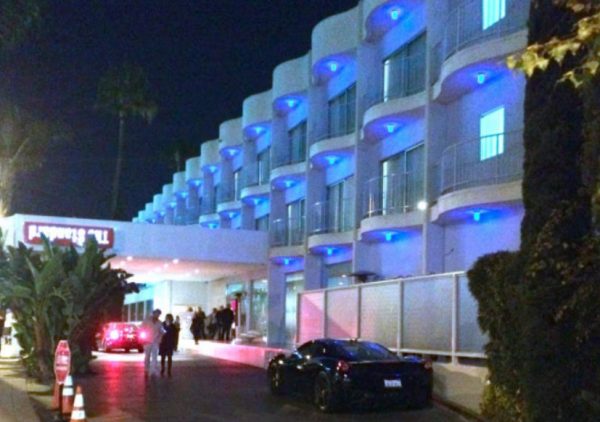 The Standard already has historic status on the state level, but having historic status on the local level is an important signal to developers not to consider demolishing it. Historic status does not guarantee it won't see a wrecking ball, but it does make it more difficult.
In the meantime, she hopes whoever takes over the property will appreciate the architectural treasure the Standard is.
"Whoever is the next steward [of the building] will have a real gem on their hands," said Rummerfield. "It's just a magical spot."
To donate to the GoFundMe effort, CLICK HERE.