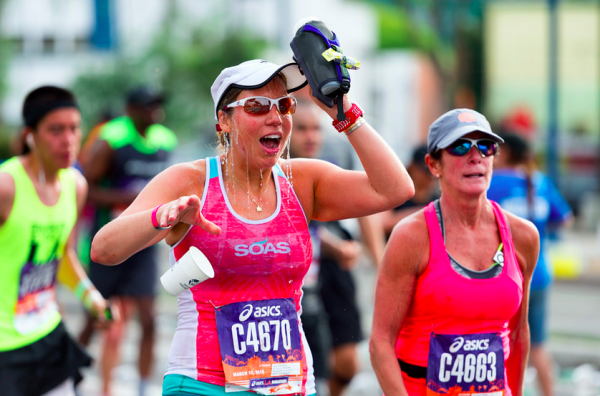 The Los Angeles Marathon will next run through West Hollywood on Nov. 7. That's the date to which the annual 26.2 mile run has been rescheduled for 2021.
The LA Marathon has traditionally been held in March since its inception in 1986, but the coronavirus pandemic forced its delay this year.
This year's marathon was originally scheduled for March 21, but pushed back to May 23. However, in January, the slow vaccine roll-out has caused officials to push it back again, announcing it would happen sometime in the fall.
Then Monday, officials with McCourt Foundation, which runs the marathon and the Rose Bowl 5K and Half Marathon, announced the Nov. 7 date.
With the marathon happening on Nov. 7, that means the LA Big 5K, always heled the day before the marathon, will be held on Nov. 6.
This year's marathon will NOT go through Santa Monica. Since 2010, the LA Marathon has followed a "Stadium to the Sea" course, starting at Dodger Stadium and ending in Santa Monica. However, marathon officials say this year the city of Santa Monica dramatically increased the costs of running through the city.
Instead, this year the course will be a "Stadium to the Stars" course from Dodger Stadium to Brentwood, then doubling back to end in Century City on Avenue of the Stars. 
Murphy Reinschreiber, chief operating officer of The McCourt Foundation, said in a statement Monday that the Avenue of the Stars finish line "allows for a more vibrant and exciting finish experience than previously possible. We expect the closing miles and finish line to be the highlight of the must-do, world-class experience that is the Los Angeles Marathon."
The marathon began running through West Hollywood in 2010 when it began following the Stadium to the Sea course – entering the city on Sunset Boulevard, turning south on San Vicente Boulevard, then heading west on  Santa Monica Boulevard into Beverly Hills.
It is unclear how the new Stadium to the Stars route will affect the West Hollywood leg of the marathon.
The 2020 LA Marathon was held on Sunday, March 8, 2020, the last major event West Hollywood hosted before the pandemic forced shutdown.