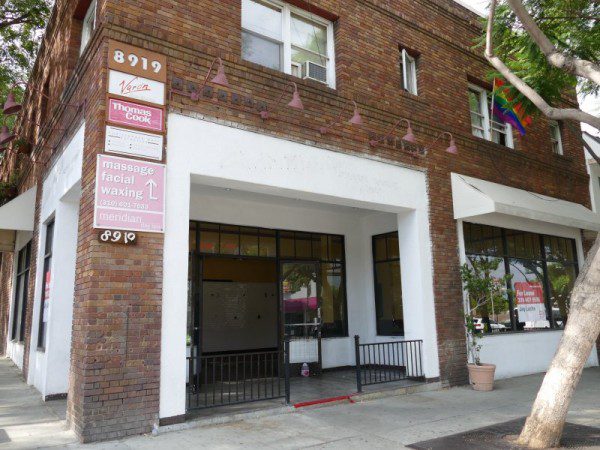 The new location for Gym Sports Bar and Grill took a step closer to becoming a reality Tuesday as John Keho, the city's planning and development services director, approved its application to serve alcohol.
"It's great to help a small local business, an LGBT business, continue to hopefully thrive in our community under the current state of affairs, so I'm very happy to approve this application," said Keho as he granted the minor conditional use permit.
Gym Bar's new location at 8919 Santa Monica Blvd., at Hilldale Avenue, had previously housed Halal Guys restaurant and before that Champagne French Bakery Cafe, neither of which served alcohol. Taking this step to get permission to sell alcohol was a necessary one.
Rick Schmutzler, co-owner of Gym Bar (along with Hunter Haliniak), was thrilled and relieved to receive the approval.
"We're really excited that we're one step closer to opening, " Schmutzler told WEHOville. "The location itself and the space itself, we couldn't be happier with it."
The past year with the coronavirus pandemic shuttering many business has been difficult for many small businesses.
"This has been a really challenging environment, for small business, queer business and particularly bars and restaurants. It's been a really, really difficult road," Schmutzler said. "The fact that we've been able to get to this point and now we finally see the light at the end of the tunnel is great."
With the alcohol sales approved for the location, Schmutzler and Haliniak can begin applying for building permits to transform the space into the Gym Bar. Although the alterations they plan are fairly minor, Schmutzler isn't setting an opening date yet.
"We're not ready to announce an opening date," Schmutzler said. "We hope it's soon, but there are still several steps to go through before we will be ready to open."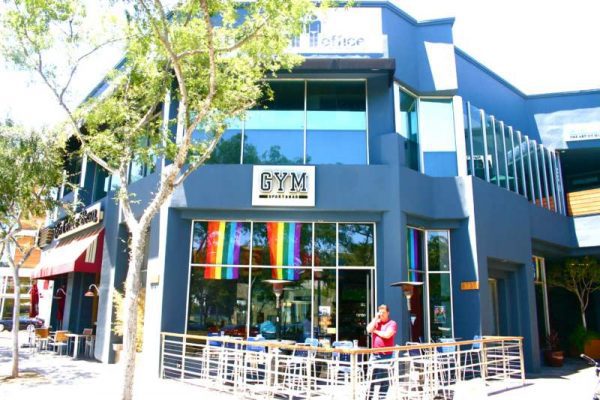 Gym Bar opened in WeHo in 2009 at 8737 Santa Monica Blvd., at Hancock Avenue, in the space where the Normandie Room lesbian bar had been located. It quickly became a popular spot due to its laid back atmosphere and neighborhood bar feel.
It was a destination for many recreational sports players like the people who played dodgeball in West Hollywood Auditorium or the people who played tennis, flag football, softball, etc. with the Varsity Gay League.
In July 2020, after being shut down for four months due to the coronavirus pandemic lockdown, Gym Bar announced it was  closing for good. Gym Bar officials said that property owner, Elias Shokrian of Calitex LLC in Beverly Hills, was unwilling to be flexible with the terms of the lease.
Three other WeHo gay bars announced their closing in the months that followed – Flaming Saddles, Rage and Gold Coast.
Many thought Gym Bar was gone for good, but the owners were quietly scouting for a new location, one with a kitchen so they could serve food, something they'd always wanted to include, according to Schmutzler.
The previous location was too small to accommodate a kitchen, but this new location is almost double the size of the old one and already has a kitchen.
"We're super excited to be able to bring this new and improved, full kitchen and full menu version of Gym Sports Bar and Grill to WeHo," said Schmutzler. "It's not fancy food, it's primarily comfort food, but what we do with it is amazing. It's not frozen, it's fresh ingredient. Our sauces are amazing. People are really going to like it."
The menu will be a duplication of the menu they have at the Fort Lauderdale location. In fact, the chef from Fort Lauderdale is relocating here to oversee the restaurant. The original Gym Bar location in Manhattan, opened in 2005, does not serve food.
A last-minute push by the West Hollywood Preservation Alliance to have historic status considered for the 8919 Santa Monica Blvd. building, erected in 1927, was not considered.
Keho explained that sales and consumption of alcohol on the premises has no impact on the building's potential historic status.
However, Keho did encourage the property owner, Monte Overstreet, to consider applying for historic status since such a designation also carries the ability to apply for rehabilitation incentives for the building as well as receive lower property taxes.
Despite Monte Overstreet's reputation of being difficult landlord to work with, Schmutzler told WEHOville that their dealings with Overstreet have gone well.
"Monte has been incredibly supportive in this process," said Schmutzler. "He understands that we're trying to do what a lot of people said was impossible. He has gone out of his way to work with us to make sure we get through this process . . . They have been really, really good with us."
Schmutzler reported the community has been anxious for Gym Bar to reopen.
"We're just really touched and flattered by the community support we've received in this process," he said. "As the owner and founder of this business, that's the kind of thing that you hope for. That's the reason that I opened this type of business, to make sure we give back to the community as much as we take from it."
In January, WeHo's Gym Bar launched a GoFundMe page hoping to raise $75,000 to help with the costs of opening in this new location. So far, they have raised $20,300 of that goal.