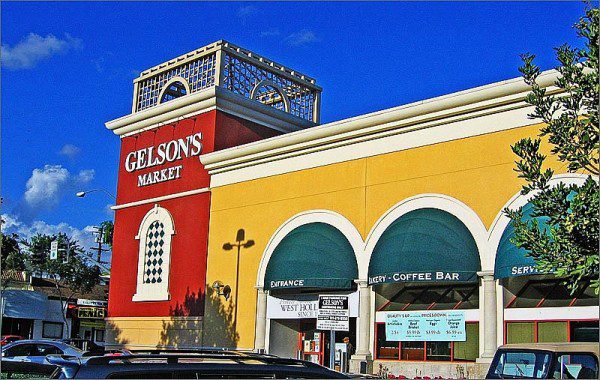 As a longtime West Hollywood resident, I shop at the three groceries stores closest to me: Trader Joe's, Whole Foods and Gelson's. And I often buy the prepared foods that can be bought by weight (and don't require cooking!).

In visiting Gelson's on March 5th and again on the 8th, I noticed that almost every item in their prepared food area (i.e., specialty dishes, salads, etc.) had gone up significantly. The store has never been known for low pricing but these increases border on insanity. For example, a week prior the Spicy Thai Pasta Salad was on sale for $9.99/lb. Now it's $14.29/lb. The Shrimp & Cucumber Salad went from $15.99/lb. to $20.79/lb. When I spoke with the employee behind the counter, he said most items on average went up by $2/lb. A majority of the dishes in the case now hover around $16.99/lb.
At checkout, when I asked about these out-of-whack increases the clerk informed me that prices across the store have been raised to compensate for the new West Hollywood Hero Pay Ordinance. And while I might understand passing along small increases, these seem beyond reasonable. And haven't grocery chains recorded record profits during the pandemic?
The Gelson's Manager later informed me that prices throughout the store have gone up and customers have complained. She mentioned the Shrimp Cocktail platter went up (from about $10.99 to $14.29) and even the candy-by-weight went from $1.99 to $2.09/lb. She was also in the process of covering up the formerly $13.99 Roasted Chicken with a $15.29 sticker.

By comparison, Whole Foods prices have remained the same. If anything, since Amazon acquired the grocery chain it seems prices have come down a bit – at least for the items that I buy. In fact, their average prepared food-by-weight is around $9.99/lb. (vs $16.99/lb. for Gelson's). Trader Joe's pricing has also remained constant.
The Hero Pay Ordinance is intended to help workers who have put themselves and their families in harm's way due to the spread of Covid-19. It has also been passed in Los Angeles and other local municipalities. The West Hollywood one increases pay by $5/hr. for a short time, through June 17, 2021. These people put themselves at risk every day. The intention — for only four months — is to share the profits and mitigate the extraordinary circumstances that many employees have been experiencing.
Kroger recently even used the Hero Pay Ordinance as a reason to close a few SoCal locations in a few "underperforming" areas, some of which are also happen to be underserved. However, I also understand the nature of the free market: if costs rise, so can prices. But I know the intent behind the ordinance was not to bilk consumers.
I am sad to say — despite the quality food and caring employees — I no longer plan to shop at Gelson's. I'll also be looking to see if the store lowers prices on June 18th.