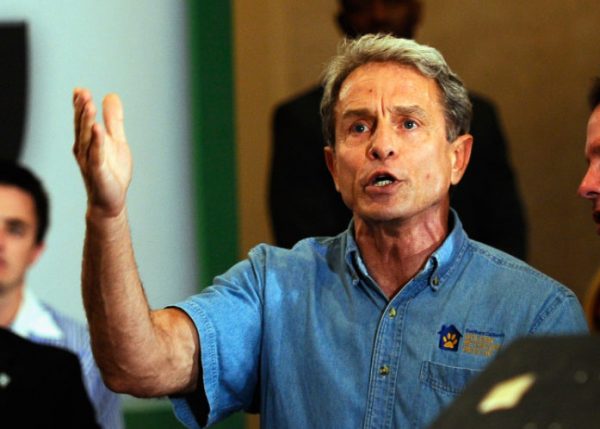 A  federal judge overseeing the criminal case against political donor Ed Buck Wednesday denied a defense motion to suppress a deputy's declaration that she saw a substance appearing to be methamphetamine along with drug paraphernalia in plain view at Buck's apartment when she was called to the scene of a man's overdose death.
Buck, 66, is accused of giving drugs to the man who died at his West Hollywood apartment after allegedly being lured across state lines for prostitution. He faces nine felony counts in Los Angeles federal court, plus state charges of running a drug den. The federal case will proceed first in downtown Los Angeles.
In a hearing conducted via Zoom earlier this month, Los Angeles County sheriff's deputy Grehtel Barraza testified that when she responded to a call for service at Buck's apartment on July 27, 2017, she observed evidence of what she believed to be narcotics on the table, and a bulbous pipe and a baggie with white crystalline residue in the already-open drawers to the red tool chest.
Buck argued that the evidence recovered from the tool chest should be suppressed because it was not in plain view since he always kept the drawers shut out of habit due to the chest's tendency to tip over. U.S. District Judge Christina Snyder denied the motion.
Also Wednesday, the prosecution and defense filed a stipulated agreement to move the trial from April 20 to July 13 due to attorney conflicts and the need for more preparation time. The judge will decide whether to accept the proposed trial date.
Buck was arrested in September 2019 after being charged in federal court with providing methamphetamine to a man who died after receiving the drug intravenously. He now faces additional charges, including a count alleging that he enticed 26-year-old Gemmel Moore to travel to the Los Angeles area to engage in prostitution. Buck allegedly provided meth to Moore, who overdosed on the drug.
Buck is charged with a second count of enticing a man to travel with the intent of engaging in prostitution. He is also accused of knowingly and intentionally distributing meth, and using his apartment for the purpose of distributing narcotics such as meth, and the sedatives gamma hydroxybutyric acid (GHB) and clonazepam.
Buck has been in custody at a downtown federal lockup since his arrest.