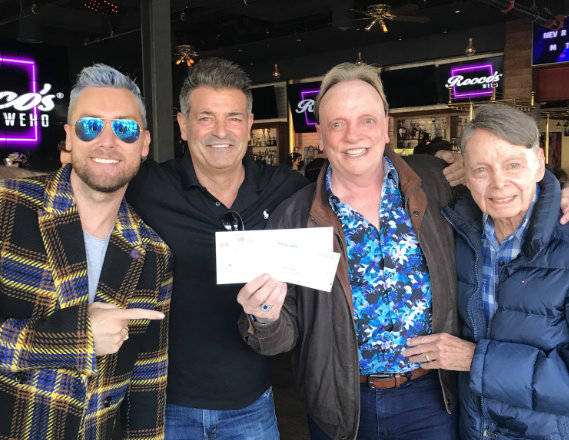 Lance Bass has signed a lease to rent the space that Rage nightclub occupied for 37 years.
Located on the northwest corner of Santa Monica and San Vicente boulevards in the heart of the Boystown LGBT entertainment district, the Rage space is already being gutted for renovations.
Bass, who came to fame as part of the boy band NSYNC, is also a partner in Rocco's restaurant/lounge across the street. Several of the people involved with Rocco's are partnering with Bass again on this venture.
No word on what the new club will be called or when it will open.
However, with Gym Bar opening next door and the new Stache restaurant/nightclub opening a block west of the Rage location, the area will soon have three more LGBT-oriented venues than it currently does.
Promoter Andrew Scott tells WEHOville that property owner Monte Overstreet and his husband John Cole worked hard to find the right business to lease the space.
"Monte and John have been ferociously diligent in securing the perfect businesses to secure the spaces left vacant from the COVID pandemic and to escalate a revival of WeHo for future generations," reported Scott.
Rage announced in September 2020 that it was closing permanently. Rage owners Robert Maghame and Saeed Sattari reported they were shuttering as they unable to come to terms on a new lease with Overstreet.
Overstreet also owns the property where Flaming Saddles country-western bar and Gold Coast neighborhood bar were located. Both announced in the summer they were closing permanently.
"Despite what naysayers have said, Monte and John are once again proving to be visionaries in the evolution of gay culture in West Hollywood," said Scott.
Overstreet owns the building where Gym Bar will be opening this summer. Gym Bar owner Rick Schmutzler told WEHOville that Overstreet was proving to be a supportive landlord who was doing everything he could to help the business open.
The promos appearing on Instagram announcing "the biggest gay nightclub in the USA is coming to WeHo this year" seem to be to this new club.