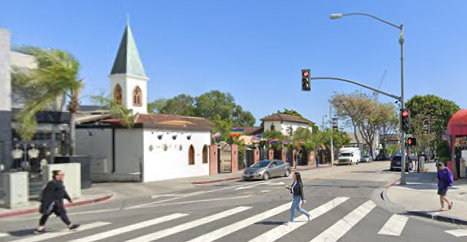 Residents living near Robertson Boulevard seem united in their opposition to a proposal to close that major thoroughfare on Saturday nights and all day on Sundays.
That was the message coming from a neighborhood meeting on Wednesday with residents living in the West Hollywood West and Norma Triangle neighborhoods.
City staffers presented the plan they have devised following a unanimous City Council vote in February approving the closure of Robertson between Santa Monica Boulevard and El Tovar Place, just north of Melrose Avenue, from 6 p.m. on Saturdays to 2 a.m. on Mondays.
During those 32 hours of closure, city staffers hope to hope to have some food trucks and other activities at night.
During the day on Sundays, they hope to have venders set up booths, in a farmers market or flea market type situation, plus have yoga or exercise classes in the street and a special kid zone area.
Although the Robertson closure will extend to El Tovar Place at night, during the day on Sunday, Robertson from the south will be open all the way to the entrance of Anawalt Lumber. After 6 p.m. when Anawalt closes, the closure will extend back to down to El Tovar Place.  
Only half of the street will be available for programming during these 32 hours since fire regulations require a lane for emergency vehicle access at all times.
There are currently no plans to have portable rest rooms or hand washing facilities available on Robertson. However, city staffers reminded this is just a three-month pilot program and they can make adjustments as needed.
There are currently no plans to set capacity limits for the Robertson area, although security personnel will be on hand to remind people about social distancing.
"Are we creating a party atmosphere in the street?" asked resident Dan Perrie, worried about the noise coming from the area disturbing the neighborhood. Another resident referred to it as a "carnival zone."
Traffic was another major concern with residents worried about traffic spilling over into the quiet neighborhoods, taking street parking (despite it being a permit-only area after 7 p.m.) and leaving their trash on the street.
Jackie Rocco, the city's public works director, assured they would put up extra signage directing people to park in the parking deck adjacent to the West Hollywood Library. They would also put up more signs saying it was a permit-only zone and send parking enforcement into the areas more often to ticket people without a permit.
The businesses along Robertson appear to be opposed to this closure plan as well. Residents felt the closure would really only benefit one business – The Abbey.  
"If the closure is just to benefit the business on Robertson, let's be honest, that's the Abbey," said resident Joel Becker.
One resident summed up the whole plan by saying, "[This plan] doesn't make any sense when every business is opposed to this and the city is imposing this upon us."
Residents also criticized the closure because the City Council approved the idea as a concept without any specific details, leaving it to City Hall staff to figure out those details after the fact.
"What they voted on was a blank piece of paper," said resident Manny Rodriguez. "They voted on just an idea."
Rodriguez noted if a developer wants to construct a building, the developer must present detailed plans, have neighborhood meetings and get approval from various city boards and commissions before getting City Council approval. Yet, the City Council approved the Robertson closure idea without any such discussion or vetting.
"It's a double standard," said Rodriguez.
Assistant City Manager Oscar Delgado said the City Council is not scheduled to discuss the plans again before the Robertson closure gets underway, likely in mid-April.
However, Delgado promised city staff would work hard to assure the Robertson closure had minimal impact on the residents.
"We are doing everything we can to mitigate the impact to the community," said Delgado. "Our goal is not to impact the residential community that we value so much."
RELATED: Opinion: Saturday Night Fever; Robertson Boulevard Weekend Closure Plan Not Well Thought Out