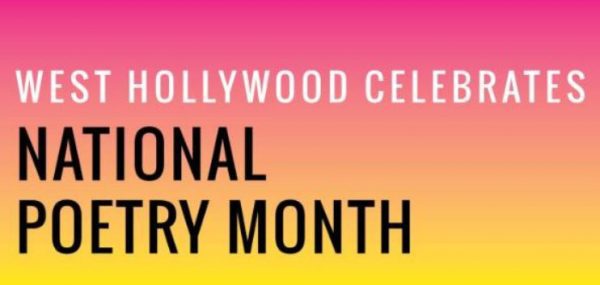 West Hollywood will celebrate National Poetry Month in April with a variety of events and exhibitions honoring poets and art of poetry.
Among the events being held:
April 5 at 6 p.m., the West Hollywood City Council will issue a commemorative National Poetry Monthproclamation, which will be received by West Hollywood City Poet Laureate Brian Sonia-Wallace. The presentation will take place online and is viewable on the City's YouTube channel. Sonia-Wallace will also debut a new poem he has created, which combines lines submitted by 53 West Hollywood residents and visitors. The poem is also available to read here.
April 7 at 6 p.m., as part of the city's WeHo Reads series, apoetry readingand conversation Gustavo Hernandez and Rocio Carlos about representation in relation to the history of the local LGBTQ rights movement. Gustavo Hernandez is a poet with a new poetry collectionFlower Grand First. Rocío Carlos is the author ofthe (other) housewhose work was included in LACMA's Pacific Standard Time exhibition,Those of This America. This event will also feature musical guests Mariachi Arcoiris de Los Angeles, who have as part of their group the first openly transgender woman in the history of mariachi. The event, titledExploring the Landscape of the Gay Rights Movement, will take place online and is free to attend. For more information and to RSVP: www.weho.org/wehoreads.
April 14 at 6 p.m., as part of the city's WeHo Reads series, West Hollywood City Poet Laureate Brian Sonia-Wallace will bring together poets near and far for an exploration of thresholds in language, gender, generation, and geography. Featured poets include Terry Wolverton, Alyesha Wise-Hernandez, féi hernandez, Alan Pelaez Lopez, and Harry Giles. The event will culminate in writing prompts to get your creative juices flowing and a virtual afterparty for participants to share their work. The event, titled"It is time to cross the threshold on your hands"(after a line by poet Kayleigh Zaloga), will take place online and is free to attend. For more information and to RSVP: www.weho.org/wehoreads.
Fridays and Saturdays through the month of April, Greenway Arts Alliance will present the annual L.A. Get Down Festival, with financial support from the city's arts division. The festival is a celebration of hip hop and spoken word, presented in association with Da Poetry Lounge. Most events are $10. For tickets and information, visit http://greenwaycourttheatre.org/lagetdown2021.
Throughout the month, the city will also honor living poets by featuring selections of their poetry onstreet pole bannersalong Santa Monica Boulevard. Currently there are 43 poets honored and each year the City Poet Laureate selects two additional poets to honor. This year Ryka Aoki and Tommy Pico will be honored along with a banner honoring City Poet Laureate Brian Sonia-Wallace.
Ryka Aoki is author ofSeasonal Velocities, He Mele a Hilo (A Hilo Song), Why Dust Shall Never Settle Upon This Soul, The Great Space Adventure, and the forthcomingLight from Uncommon Stars. She is a two-time Lambda Award finalist, and winner of the Eli Coppola Chapbook Contest, the Corson-Bishop Poetry Prize, and a University Award from the Academy of American Poets. Aoki is also the founder of the International Transgender Martial Arts Alliance, and Executive Director of Dissonance Press and The After School programs at Beyond Baroque Literary Arts Center, in Venice, California.
Tommy "Teebs" Pico is the author of the booksIRL, Nature Poem, Junk,andFeed. Originally from the Viejas Indian reservation of the Kumeyaay nation, he now splits his time between Los Angeles and Brooklyn. He co-curates the reading series Poets with Attitude, is poetry editor at Catapult Magazine, writes on the FX show Reservation Dogs, and is a contributing editor at Literary Hub.
Brian Sonia-Wallace has been writing poems for strangers and neighbors on the streets of West Hollywood and at city events since the WeHo Reads 2014 season. A social practice poet straddling the lines between literature and community engagement, his 2020 debut from Harper Collins,The Poetry of Strangers: What I Learned Traveling America With a Typewriter, was lauded as "full of optimism and wide-eyed wonder" byTheNew York Times. He teaches creative writing through the UCLA Extension Writers' Program and Get Lit – Words Ignite. In 2019, Sonia-Wallace received a grant from the city's One City One Pride LGBTQ Arts Festival to create Pride Poets, a project that brought poets on typewriters to the streets of West Hollywood to create more than 700 original works based on one-on-one interactions, and in 2020 brought together more than 100 LGBTQ+ poets for virtual shows during the COVID-19 quarantine. Pride Poets has been featured in the publicationsThe PrideandThe Advocate, and Sonia-Wallace's work has, additionally, been profiled byTheNew York Times, The Guardian, The Poetry Foundation, NPR, ABC7, andTelemundo.
The city's Poet Laureate program began in 2014, with each poet serving for a two-year term. The City Poet Laureate serves as an ambassador of West Hollywood's literary culture and leads the promotion of poetry in the city, including assisting with its annual celebration of National Poetry Month.
The city's inaugural City Poet Laureate was Steven Reigns (2014-2016) who implemented the city's annual Poetry Month street banner project, which honors living poets and brings snippets of poetry into the streets of West Hollywood.
The city's second City Poet Laureate was Kim Dower (2016-2018) who initiated the Citywide Collaborative Poem, the first of which was animated into a five-minute-long video: "I Sing The Body West Hollywood"
The third City Poet Laureate was Charles Flowers (2018-2020) and the fourth is Brian Sonia-Wallace.
For additional information about West Hollywood's National Poetry Month activities or City Poet Laureate program, please contact Mike Che, the city's Arts Coordinator, at (323) 848-6377 or mche@weho.org or visit www.weho.org/arts.