City News Service
A judge ruled Wednesday that a German national convicted of setting dozens of fires in West Hollywood, Hollywood and the San Fernando Valley does not qualify for a mental health diversion program that could have eventually led to the dismissal of the charges against him.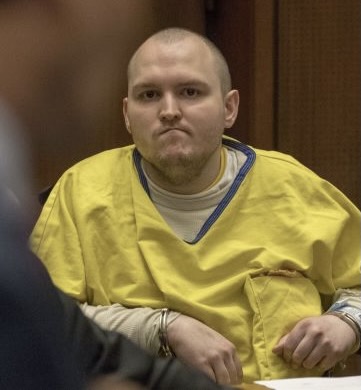 Los Angeles Superior Court Judge George G. Lomeli found that Harry
Burkhart, now 33, is "not suitable for mental health diversion" and that his September 2016 conviction on 49 felony counts "shall stand.'"
   Burkhart had a "strong bond with his mother,"the judge said, noting
that he believed the defendant's crimes were motivated by his anger over
her arrest in the United States in connection with a fraud case against her in
Germany.
   Burkhart — who is serving a sentence of 33 years and four months in
state prison — refused to appear in the downtown Los Angeles courtroom for the
hearing.
   In a ruling last August, a three-justice panel from California's 2nd
District Court of Appeal cited "significant evidence presented at trial" of
Burkhart's "mental illness" in ordering his conviction on 49 felony charges
to be conditionally reversed and directed the judge to conduct a hearing to
determine if the defendant qualifies for the diversion program.
   Burkhart was convicted in September 2016 of 25 counts of arson of
property, 18 counts of arson of an inhabited dwelling and two counts each of
possession of an incendiary device, attempted arson and arson of a structure.
The first jury to hear the case deadlocked on whether he was sane or insane at
the time he committed the crimes.
   A second jury found in 2018 that he was sane at the time of the crimes
committed between Dec. 30, 2011, and Jan. 2, 2012.
   At Burkhart's March 2018 sentencing, the judge said Burkhart had
mental problems from a very young age. But Lomeli said then that he was
convinced that the defendant "indeed knew of his wrongdoing at the time he
committed the crimes, legally and morally."
   Most of the blazes were started under vehicles parked in carports or
near homes, but one vehicle was set on fire Dec. 30, 2011, in the parking lot
of a shopping center in Hollywood and another at a complex nearby on New Year's Eve.