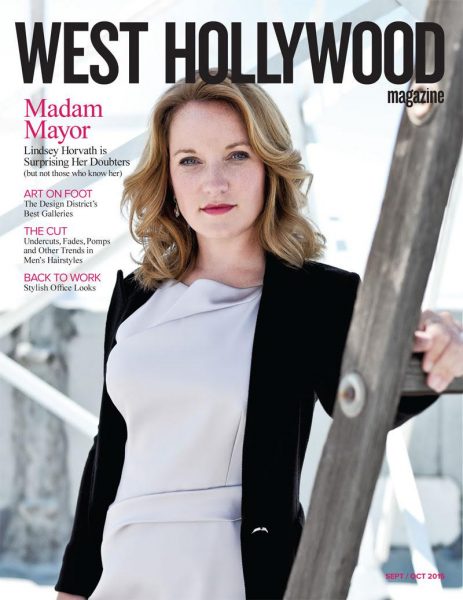 By Larry Block
Mayor Lindsey Horvath is expected to soon announce her candidacy for State Assemblymember Richard Bloom's open seat or to succeed Los Angeles County Supervisor Sheila Kuehl who previously announced she will not be running for re-election.
According to sources close to Horvath, the two term councilmember would only choose to run for Kuehl's seat with her endorsement.
Bloom has previously announced he will run for County Supervisor in 2022.
The 50th district state assembly district that Bloom is leaving includes West Hollywood, Beverly Hills, Santa Monica, West Los Angeles, Malibu, Agoura Hills and other Westside neighborhoods.
Rumors are circulating that the big announcement is to take place before the kickoff of Pride Month.
Horvath was appointed to the City Council after the death of the late Sal Guarriello in 2009. She lost her first bid for city council in 2011 when she was defeated by Councilmember John D'Amico.
Horvath came back to win her seat in 2015, finishing third with 2133 votes, just behind Councilmember Meister who garnered 2,136 votes. John D'Amico was in first place with 2,309 votes. In the 2019 race Horvath was elected overwhelmingly with 3,948 votes with Lauren Meister finishing second with 3,610 votes and D'Amico third with 2,441 votes.
If elected to higher office Horvath would join other West Hollywood City Council members who moved up the political ladder. In 2009 Councilmember Paul Koretz took the oath ofofficeto begin hisfirstterm as a City Councilmember representing the 5th District of Los Angeles. And in 2014 Councilmember Jeffrey Prang won his first race for County Assessor.
Horvath would be the only declared female candidate in either the Los Angeles County Supervisor, or Assembly District 50 races.
Horvath has a long history of civic and social justice advocacy. She has spearheaded policies to make West Hollywood an "Age-Friendly Community" to better serve residents of all ages and created the first-ever West Hollywood Community Response Team to Domestic Violence.
She also led the West Hollywood to becoming the first city in the nation to impose financial sanctions on Arizona for its discriminatory, anti-immigration SB-1070 law.
Horvath, who was raised in the small town of Wickliffe, Ohio, graduated Cum Laude with a B.A. in Political Science and Gender Studies from the University of Notre Dame.