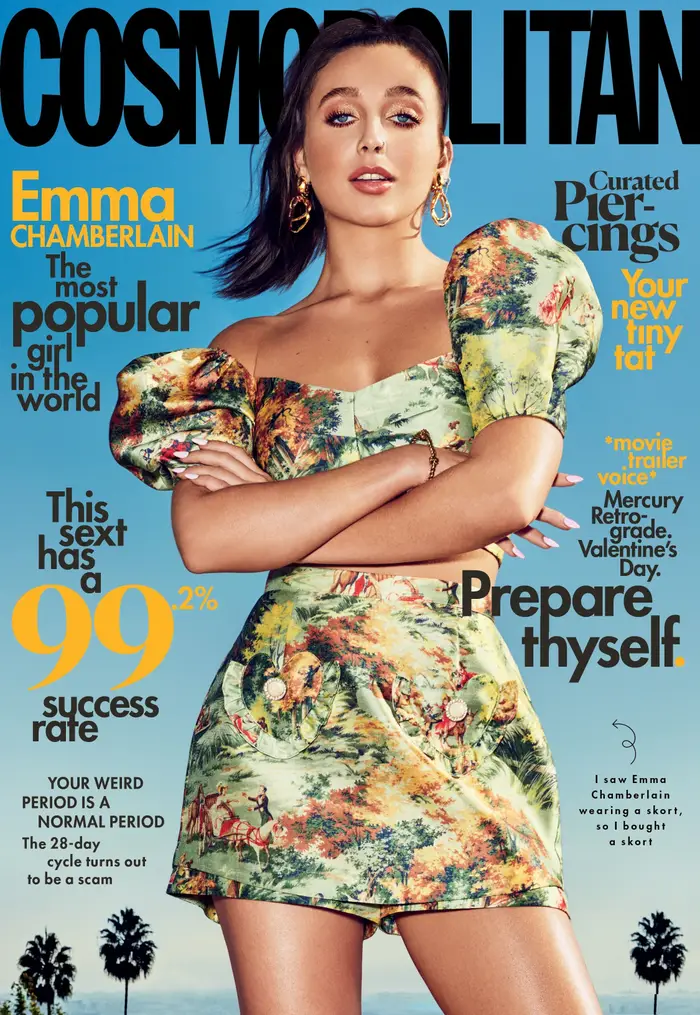 By Tony Castro
WHO IS EMMA CHAMBERLAIN and how does this 19-year-old — who is not a film goddess or rock star, nor an heiress or even a Bill Gates-like tech mogul — own a luxurious $4 million contemporary concrete and glass 'museum-quality' mansion tucked away in West Hollywood that Vogue magazine calls "an architectural showstopper"?
Yeah, Vogue. But then those pages are where Emma has grown up. She's undoutedly the teenager that Anna Wintour, the dourly but ageless American Vogue editor-in-chief celebrated in the 2006 comedy film The Devil Wears Prada wanted to be: gorgeously attired, fabulously popular, and the toast of social media, if Instagram, Youtube and the Internet had existed back in the Sixties.
An only child from Northern California, Chamberlain is famous and rich because she boasts more 10 million followers and 1.3 billion views on Youtube and over 12.6 million followers on Instagram. From that, she has built her own coffee brand, her own clothing line and sponsorship ties with numerous fashion retailers that have made her one of the leading influencers in the world. Dear lord, she's now the face of luxury designer brand Louis Vuitton.
Chamberlain, in other words, has made her fortune as a dazzling walking billboard, better than any illusory bot an advertising genius could create for a world so engrossed with the rise of social media that we've become a generation that is image-obsessed to a fault. And unlike conventional celebrities or paid product endorsers, according to marketing researchers, influencers tend to be viewed by their followers as trusted peers.
It's a unique position, envied and misunderstood, not to mention a pop-cultural phenomenon that the multi-billion-dollar-a year-fashion, apparel and beauty industries can't live without. So they've created a juggernaut of newly minted youthful millionaires and a modern Lost Generation not unlike what came of age during World War I: with a disoriented, wandering and directionless spirit that became themes in literary works depicting decadence and the frivolous lifestyle of the wealthy.
Australian Vogue, where Chamberlain has been often featured, says "her eye for style has earned her the label of Gen-Z trendsetter, as well as a Louis Vuitton muse, with a spot on fashion's most coveted front rows." And it's all happened in the last few years, so successful a period for her that high school was getting in the way. So she dropped out.
"Emma Chamberlain," says the New York Times, 'is the funniest person on YouTube. What does she do? So far the content of her videos has not been the point: She makes cupcakes, or tries her hand at sewing. Like Phoebe Waller-Bridge of "Fleabag," an artist close to twice her age, she interrupts the proceedings constantly to speak to her audience. That's where her videos actually happen."
Emma's contemporary, internet culture reporter Rebecca Jennings of Vox.com, may be even more dead-on in assessing Chamberlain:
"Through clever, fast-paced editing and goofy witticisms, Emma, often makeup-free and wearing a hoodie, has made herself endlessly watchable to a generation of kids who identify more with what vlogger they grew up with than their favorite TV show."
You could almost say, then, that Chamberlain is the daughter of social media. Her parents divorced when she was five, and not long after she says she began watching YouTube "to connect with other people and see what they were up to — and weirdly enough, it felt like I had friends that were cool, and it was people that I maybe admired."
It is hardly the business plan that would come from the Wharton School of business or even a mom and pop store with dreams of just staying ahead of the creditors. But Chamberlain's secret of her success is the business plan straight from the gut, which hasn't gotten it all wrong so far. Listen to her explain it in her best Willy Loman incarnation:
"When something's really significant, whether it's good, bad, ugly, I like being able to look back at a moment in time that was high-emotion. Whenever I'm crying I like, weirdly, to document it. Every time I cry I always take one photo of myself afterwards because I like to look back and think 'Remember when I was so upset about X, Y and Z? Look at me now — I don't care about that anymore!'"
Cosmopolitan, among others, bought it. In February 2020, the magazine featured Chamberlain on the cover with the caption below her name "The most popular girl in the world."
Having recently relocated to Los Angeles with millions in pocket change, Chamberlain could be spotted all over town, as I did one day at The Ivy, as she courted fame with a portable video camera she pulled out at a dining table as if it were an eating utensil, zooming in on a plate of grilled vegetable salad.
But then that week is when she apparently bought that contemporary four bedroom starter home at 931 N. LaJolla, not far off Sunset Boulevard, from Andrew Modlin, co-founder of the cannabis dispensary MedMen. Little more than a year later she is flipping it.
The house is concrete with enormous windows and overflowing natural light, with a walled and gated entrance lined with high-end cameras for security. The realtor listing photos show a dramatic entry with a sculpture and floating staircase, leading into glass-filled interiors such as a formal dining room and open-concept kitchen. Most spaces open directly outside, where a private backyard features a swimming pool, spa and cabana.
"Many influencers are millionaires," says Crystal Abidin, an internet and social media researcher with Australia's Curtin University who has studied influencers and online authenticity, "who use everyman empathy and narratives of victimhood. Most influencers peddle in sharing private or supposedly private information about themselves, but various studies show that all aspects of these disclosures are thought through and intentional."
A practiced artistic performance in other words.
And, looking ahead to even nicer, pricier digs, Emma Chamberlain who enters her twenties in May is in the right place for that.
© 2021 Tony Castro