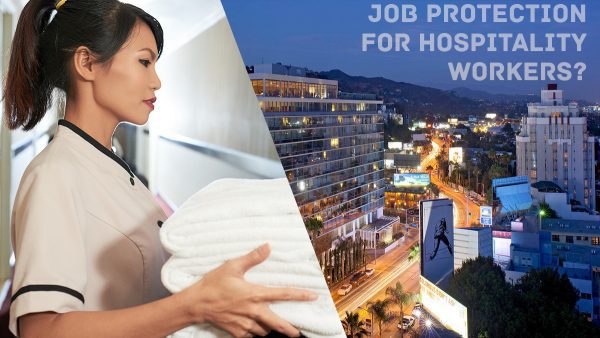 West Hollywood's City Council will decide at tonight's meeting whether to compel local hotels to re-hire workers laid off during the COVID-19 pandemic, an issue which state legislators and cities across California have struggled to address since the crisis began last year.
POINT
Laid-off hospitality workers and the unions that represent them want City Hall to make sure they're re-hired when the pandemic ends.
COUNTERPOINT
Hotels and business leaders say the city would be overstepping its legal authority and hindering the city's own road to economic recovery.
Hospitality workers who have lost their jobs will rally alongside UNITE HERE Local 11 and other workers' advocates in support of the agenda item.
They say the move will put West Hollywood in line with Santa Monica, Los Angeles, Long Beach and other neighboring municipalities that have passed similar measures, and is part of WeHo's overall "just economic recovery."
Local hotels and the business community, however, say it's an overreach of government authority that will cripple the already ailing hospitality sector.
The West Hollywood Chamber of Commerce issued a statement calling the agenda item "a complete invasion of businesses' right to operate under federal and state labor laws."
"It is additionally disheartening that we, as a business community, are subject to more fear and anxiety from our own city council," said Genevieve Morrill, president and CEO of the Chamber, "at a time when they need your trust and support … as they struggle to bring their businesses to full operation during such a vulnerable time."
Proponents of the policy say they have supporters on the council, including Mayor Lindsey P. Horvath and Councilmember Sepi Shyne, and they expect the measure to pass. Shyne and Councilmember John Erickson both received support from the unions in last year's election.
The agenda item, which directs city staff to make recommendations on the rehiring issue as well as a variety of other workplace protections and guidelines, can be read here.
The West Hollywood Chamber of Commerce's statement, which includes a number of alternative solutions for Council to consider, can be viewed in full here.