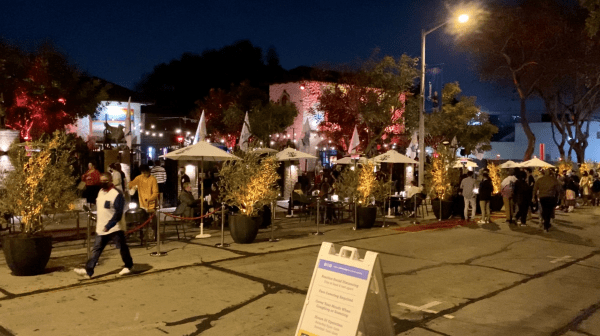 West Hollywood prides itself on standing for equality. All of our big aspirations and peaceful protests are about equality. However, is it equitable to ALL of the businesses and residents in WeHo to give the Abbey Bar & Food approximately 2000 square feet of city owned street real estate (with a market rent value of about $15,000 per month) to expand their business operation for 36 hours per week? 
The arm twisting was sold to council as an opportunity for restaurants (plural) to expand on the city's Dine Out program which originally allowed businesses to further encroach on to city property and operate their business. 
The Robertson Blvd. Dine Out expansion is a complete overreach benefiting only ONE business: The Abbey. 
Its owner, Mr. Cooley (who always plays the victim card when it comes to his business) somehow convinced city council to a trial program with little-to-no input from the residents or other businesses of all types. Nonsensical rhetoric about creating and saving jobs and being a champion of the overall community convinced councilmembers to get sucked in to the selfish plea. Even WeHo's Mayor Horvath stopped by the Abbey on Sunday Funday to take the microphone to congratulate the Abbey, saying that only David Cooley could have accomplished this, while also campaigning for her bid for County Supervisor next year. Possibly, a little "Quid Pro Quo" for free microphone time and sucking up to a potential corporate donor. Saturday night proved to be another "Spectacle de Caca" for the entire area and a traffic nightmare for all. 
Did the other bars and restaurants get exclusive use of a city access alley and closure of a public street in order to expand their businesses? I don't think so. 
Residents, motorists, and neighboring businesses must pay the price for the inconvenience. 
While this was sold as an expansion to the Dine Out program, none of the other Dine Out locations in WeHo required street closures, 36 hours per week of city traffic patrol personnel and vehicles, road closures, and other inconveniences. 
Ultimately, when the county moves back into a "green" zone and businesses are fully able to re-open, will The Abbey request to maintain its commandeering of the city street on a permanent basis? 
This is unfair to everyone involved. Unfair to other similar businesses, unfair to residents, unfair to motorists, and unfair to WeHo taxpayers. Many city taxpayers are not in favor of using city dollars for the benefit of one sole business. Even a farmers market benefits all of the vendors. 
Everyone in WeHo would like to see the maximum success of its businesses, but not solely for the benefit of one, and to the detriment of everyone else. Let's demonstrate some equity. 
—J.R. Miller 
UPDATE:
"David Cooley had no knowledge of the Out Zone project on Robertson until it was introduced by Council and appeared as an agenda item. It was entirely a surprise to him. Once he found out about it, of course, he was for it. At his expense, he invested to beautify Robertson which is mostly a boarded up abandoned street. According to the City of West Hollywood's website, "more than 60 businesses have been approved for temporary outdoor expansion permits." While The Abbey was the only business who took part in the first week of "Out on Robertson," other businesses on Robertson and other vendors have already committed to join and make it a success."
Brian Rosman,
Spokesperson for The Abbey