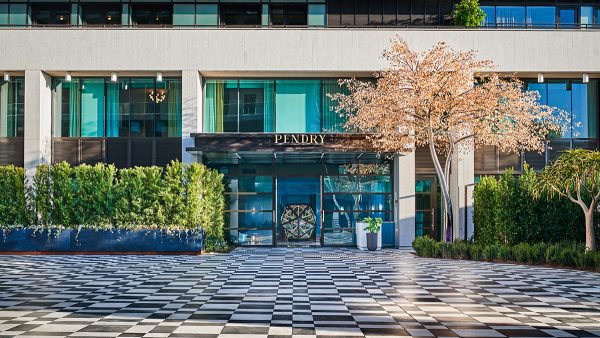 We have to start off by saying it was exciting to see the Ladies of WeKnowWeHo receive recognition from Mayor Lindsey Horvath Monday night for creating a podcast to support the business community. What has been exciting, is how it really supports our entire community and allows WeHoans, tourists and listeners from overseas (we're looking at your Alex in London!) to share a part of our village every week.
One of the newest gems to join the Creative City is the long-awaited Pendry West Hollywood. As you may remember, Tracy & Maxine received a private tour 4 days before it opened – and Maxine spent the weekend daycationing poolside last weekend. This week, they welcome GM David Hoffman to share how it's going and what people can look forward to.
With a focus on the arts, the Sunset Strip, an endless choice of experiences under one roof, and hiring the right staff, Pendry is redefining New Luxury.
* Art: "The Sunset Jewel" featuring Swarovski Crystals and mother of pearl leaves welcomes guests upon arrival. The entire property is full of impeccably curated choices from global as well as local artists.
* Bar Pendry: This is arguably David's favorite spot. Located right off the lobby, it's a great place to enjoy a refreshing handcrafted cocktail or a light bite.
* Bowling Alley: Yes, you heard that right. A bowling alley within The Britely is a perfect backdrop to create uniquely memorable moments.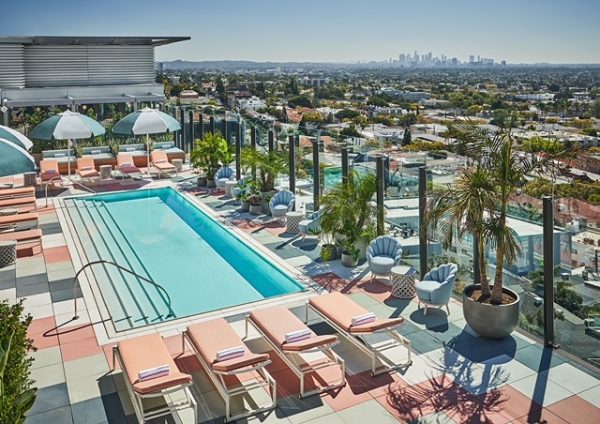 * Breathtaking Views: Catch DTLA and on a clear day, the ocean, from vantage points from the Merois, The Pool, the Helipad or even, your room.
* Dining & Drink: Multiple food and beverage concepts are offered, helmed by acclaimed Chef Wolfang Puck. With 2 Michelin stars and a Hollywood roster, Wolfgang is an OG celebrity chef. We welcome his return to Sunset and his offerings of Merois, Bar at Merois, Bar Pendry, Ospero and more.
* Design: Martin Brudnizki of London was influenced by LA at dusk and ocean waves. His use of blues, pinks and brass set a perfect backdrop throughout your stay.
* Location, location, location: Located at the intersection of Sunset Blvd and Olive Drive, Pendry West Hollywood occupies one whole block of the Sunset Strip.
* Music Venue: Built on the House of Blues lot, the multipurpose live music venue will be a discerning spot to catch live music (remember that?!) and maybe even a Ted Talk or a Wedding Rehearsal Dinner.
* Pendry Residences West Hollywood by Montage Hotels & Resorts: With thoughtful attention to detail, these luxury residences offer a private pool, fitness center, and all access to Pendry amenities. It's the best of both worlds.
* Safety: As the world opens back up, guests have access to One Medical online medicine, COVID-protocols and mindful social distancing while still feeling luxe.
* Screening Room: It wouldn't be a viable West Hollywood property without a screening room, would it?
* Spa Pendry: Just in time for the opening, LA tiers are opening up guests have the opportunity to relax at the deft hands of expert therapists.
* The Associates: David and his leadership team have worked very hard to bring the right people to Pendry to deliver service and elevate the guest experience.
* The Britely Social Club: This private social club is a great place for its members to spend time with friends and experience Pendry West Hollywood amenities.
About David Hoffman
David Hoffman is the General Manager of Pendry West Hollywood and Pendry Residences West Hollywood by Montage Hotels & Resorts, which opened April 2021. As the general manager of West Hollywood's newest luxury hotel, Hoffman oversees the operations of the entire mixed-use project, including the 149 guestrooms, as well as the 40 Pendry Residences.
He is responsible for building the leadership team, integrating Pendry values, ensuring a successful opening and managing day-to-day operations. Mr. Hoffman has been a part of the Montage International team for over 17 years.
Most recently, Hoffman served as the general manager of Sagamore Pendry Baltimore – the second debut property from Pendry Hotels & Resorts – which he opened in 2017. During his tenure at Sagamore Pendry Baltimore, the hotel received numerous awards and accolades, including being named #1 Hotel in the United States in 2018 by Condé Nast Traveler's 2018 Readers' Choice Awards.
Prior to this position, he served in leadership roles opening several Montage International properties including Montage Kapalua Bay, where he was the resort manager, as well as Montage Beverly Hills as hotel manager and Montage Laguna Beach where he served as director of rooms. He also worked for Four Seasons Hotels & Resorts for eight years prior to joining Montage International, in locations such as Chicago, IL, Newport Beach, CA and Cairo, Egypt.
The first Pendry Hotels & Resorts residential offering will feature spacious floorplans and terraces and offer owners exclusive residential amenities such as a private rooftop pool, fitness center, private lounge and wine room, and dedicated staff delivering exceptional hospitality, including catering and in-residence dining by Chef Wolfgang Puck.
This episode is chock full of Pendry highlights, but of course we have some other things to mention in The Village and beyond this week:
Guest Pics: Fred Segal, The Sunset Strip, Tower Bar, Whisky a Go Go
Food: CUT Beverly Hills, Niko Niko, Bottega Louie, Spago
Nightlife: The Abbey, Whisky a Go Go