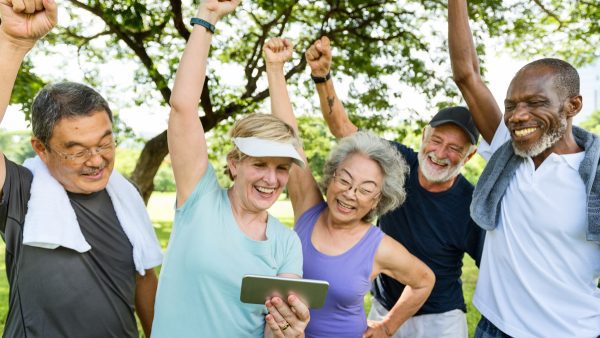 For more than two decades, the City of West Hollywood has organized an annual series of activities to engage its thriving population of older community members during Senior Month, celebrated each May. West Hollywood's ongoing efforts to support, celebrate, and value older adults is part of the commitment to being an age-friendly city.
Throughout the month of May, the City will educate and inform the broader community about the variety of available older adult programs and resources that make West Hollywood an age-friendly city. Community members are invited to follow @WehoCares on Facebook and Twitter to learn about West Hollywood's transportation services, food and nutrition resources, well-being programs, and tools to stay civically engaged.
As community events continue to be offered virtually, the City of West Hollywood is offering free one-on-one tech support sessions to help community members learn basic Zoom skills. Tech support sessions start over the phone and switch to video chat on Zoom. To learn more and book an appointment, email recreation@weho.org or call (323) 848-6511.
In addition to one-on-one support, the City's Recreation Services Division recently launched Community Connection, "a quarterly guide to thrive at any age." The guide is available to everyone and features information especially relevant to community members ages 55 and older. The Spring 2021 guide is available and can be read online at www.weho.org/services/online-services/recreation-online or request to receive a copy in the mail by calling (323) 848-6511.
The City of West Hollywood Senior Advisory Board meeting will take place virtually on Wednesday, May 26, 2021 at 2 p.m., where issues of importance to the older adult community will be discussed. Join the Zoom meeting https://zoom.us/j/98868172392; Meeting ID: 988 6817 2392; Or join audio only by phone: (669) 900-6833. Tune-in to a livestream of the meeting via the City of West Hollywood YouTube channel at www.youtube.com/wehotv.
The Activities Department of the West Hollywood Comprehensive Services Center will offer the following free virtual programming in May. To register for the following activities with the West Hollywood Comprehensive Services Center or for more information about these and other classes, please contact Alex Pagan-Mejia at apagan-mejia@jfsls.org or call (213) 248-6595. Activities will include:
Meet Me At The Opera

— Monday, May 3, 2021 at 12 p.m. — LA Opera presenter Tatyana Len will explore the greatest operas and classical musicians. This is held every first Monday of the month.

Trigger Point Massage Workshop

— Tuesday, May 4, 2021 at 1 p.m. and Tuesday May 11, 2021 at 1 p.m. — Certified massage therapist Mark DeWhitt offers a two-part series where participants will learn self-massage tips to address common aches and pains.

Boom Again

— Tuesday, May 4, 2021 at 12 p.m. — Play an exciting Baby Boomer culture trivia round of the "Boom Again" game with prizes for the winners!

All About Owls

— Monday, May 10, 2021 at 1 p.m. — "Whoooo" is not fascinated by owls?! Virtually visit the Ojai Raptor Center to learn about these curious creatures in a talk followed by a Q&A session.

Fred Astaire, An American Icon

— Tuesday, May 11, 2021 at 12:30 p.m. — Marty Schneit traces Astaire's 70-year career from 1905 when he began at the age of five-years-old in vaudeville through his nine films with Ginger Rogers.
National Honor Our LGBT Elders Day — Thursday, May 13, 2021 at 2 p.m. — Join the LA LGBT Center Senior Services Department and JFSLA as they honor the courageous struggles and victories of LGBT seniors, which have paved the way for the entire LGBTQ community. There will be special performances by Tanya Tassi, and more.

Duty Free Film Screening

— Wednesday, May 19, 2021 at 2 p.m. — After a 75-year-old gets fired as a housekeeper, her son takes her on a bucket-list adventure. The journey uncovers the economic insecurity shaping the future of a generation. Viewing followed by a live Q&A with the filmmaker and Director, Sian-Pierre Regis, and his mother, Rebecca Danigelis.

Stop Falling! Home Safety & Preventing Falls And Injuries Workshop

— Monday, May 24, 2021 at 1 p.m. — Injuries related to falls lead to emergency room visits, hospital stays, and nursing home placement. Falls are preventable! Learn how to identify fall risks.

Japanese American Museum Virtual Tour

— Thursday, May 27, 2021 at 11 a.m. — A virtual tour of the Japanese American Museum will feature the Common Ground exhibition which chronicles Japanese American history.

Seniors In Action (SIA)

— Tuesday, May 27, 2021 at 1 p.m. — SIA is about community, connections, and conversation. A link will be sent prior to the session with a featured topic.

Celebrity Bingo

— Friday, May 28, 2021 at 11 a.m. — Calling all Bingo players! This collaboration with the Los Angeles LGBT Center is going to offer some fun with prizes for winners!
Community members ages 50+ are also encouraged to enjoy the many programs and services offered by Los Angeles LGBT Center Senior Services Department. The Senior Services May newsletter, including the calendar of events, is available on the LA LGBT Center website.
Senior Month programming is presented by the City of West Hollywood and its Senior Advisory Board, as well as the Activities Program of West Hollywood Comprehensive Services Center of Jewish Family Service LA.