Crowds pack the streets on weekend nights. There have been multiple issues with drug overdoses, robberies, and guns on our streets are the new normal. There is no plan in place to handle crowds and overflowing outzones.
How quickly we forget the days before Covid. Bigger, Faster, Louder was on speed. The homeless slept in front of many of our businesses. Tashman's Hardware was booming replacing storefront windows busted up and down Santa Monica Blvd. A knife pulled on my own staff, Swastikas painted on multiple buildings in our neighborhood.
March 2020 stopped everything in its tracks. Less traffic, less crime. Over the course of the year the moratorium on renter evictions and available public services helped many off the streets and to remain in their homes. But since re-opening there have been multiple incidents on the boulevard.
The Council adopted the 'Outzones" which allowed restaurants to expand their footprint and packaged as 'survival' for some of these businesses. Business such as Fiesta Cantina, Rocco's and The Abbey re-opened with long lines. Fiesta's footprint went from approximately 11 tables to 33 tables. There is little room on our streets to accommodate big box openings such as Micky's and Revolver and the new Cannabis restaurant/bar at the old Flaming Saddles. Add Lance Bass' new Mega-Club at Rage and the conversions of both Halal Guys to Gym Bar and conversion of Cafe de Toile/Organic Ice Cream to the new Stache nightclub. So what's the plan?
Nobody wants to talk about crime including me. I wish that the customer that left my store 2 weeks ago did not get held up in the alley by a man with a gun. I wish that the lines of people did not erupt into fights. I wish the people who are not wearing masks would be respectful to my staff. Last week a maskless person assaulted my employee when told they could not enter the shop without a mask. The vomit on the street the past few Sunday mornings reminded me of old times. But more than that I wish the City Council had a plan for our Public Safety.
Our city council is busy sniping at each other, planning their race for higher office, or putting forth their own personal agenda. Over these past few months the new City Council has opted to focus on issues such as 'naming the library', and 're-painting the crosswalks', and 'gender neutral bathrooms'. Leadership is mitigating problems with policies before they happen and there are no new public safety initiatives or safe opening measures on this council agenda.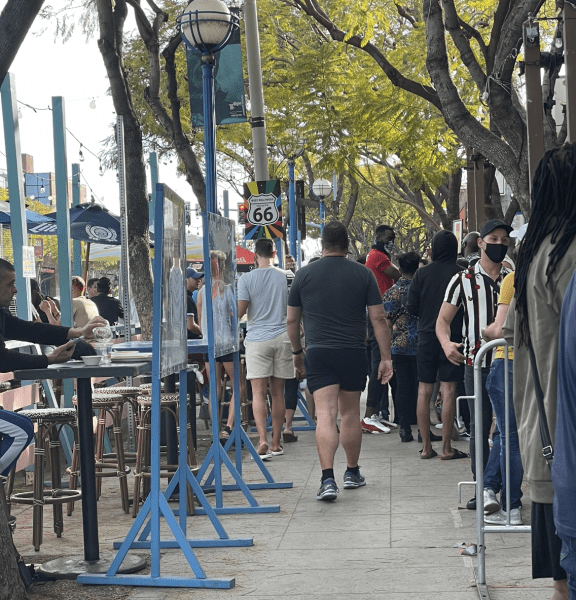 During the pandemic the City Council approved change of uses for some retail establishments to bars and nightclubs. Gym Bar will re-open at the Halal Guys location, Stache will open at former location of Cafe de Toile and the Organic Ice Cream shop. Flaming Saddles will reopen as a combined cannabis lounge and restaurant. The new Mega Rage Micky's and Revolver are planning their re-openings. All told the street cannot handle the capacity crowds safely. And delivery trucks have no where to park. And the city council has put forth zero public safety measures to monitor and ensure a safe re-opening.
What the city council is not doing is listening to the residents or businesses as reflected by the Robertson Lane Closure and the previous week's entree into the hotel workers issue. It was show and tell because Governor Newsome passed the hotel workers right to return to work 36 hours later. Can we put our energy to work on Public Safety needs? There are no additional expenditures allocated for additional patrols, or anticipation of what is about to happen with the re-opening of all the clubs. While the Sheriff is just beginning to employ mandatory body cameras we need to insist on those body cameras on every single officer working the West Hollywood beat. We need an after hours plan for patrols for employees who must walk to up dark sidewalks to their cars or home.
I'm begging the City Council. It's time to put Public Safety front and center on the agenda. People are going to get killed because you are too busy with pet projects and window dressing like library's and crosswalks and bathrooms. Get to work on the peoples business and put forth a Public Safety plan that reflects the realities of our local economy. Please don't forget the residents, we live here and it's been a long year for all.