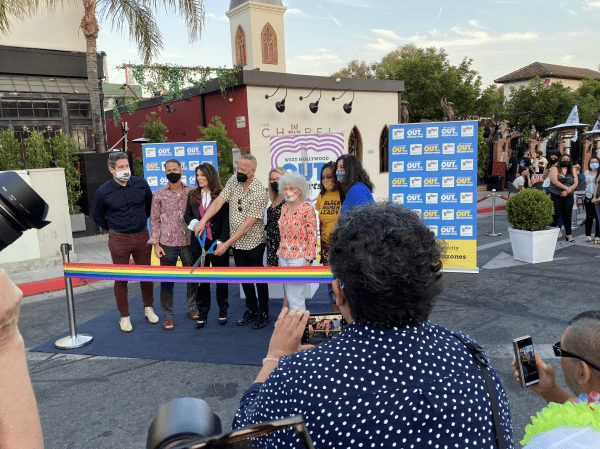 The official ribbon-cutting of the Robertson Blvd. Outzone Pilot Program took place tonight with the owner of The Abbey, David Cooley, cutting the ribbon alongside all 5 City Council Members.
Lisa Vanderpump also spoke in favor of the Outzone program and indicated that Pump, Tom-Tom, and Sur would soon be open and operational.
Councilmember John D'Amico, who spearheaded the 'Out on Robertson' pilot program raised his hands high in the air to say "West Hollywood is open for business".
All the councilmembers took turns at the podium celebrating the program despite complaints from many neighbors who do not see the value in the closure.
During the planning process members of the WHWRA, West Hollywood West Residents Association as well as neighbors in the Norma Triangle complained that there was no public process.
At one of the meetings, Jake Stevens, director at Faring Capital, stood up to say, 'The businesses don't want it!"
Despite the offer of free space on Robertson, zero West Hollywood businesses participated. The Abbey added approximately 28 tables of 4 seats each and was the only business occupying the boulevard since the program began three weeks ago.
One member of Project Angel Food told me they set up the booth to 'support the city' last weekend and would return on Sunday. Project Angel Food is the recipient of many grants from the City of West Hollywood throughout the years.
A small crowd gathered of about 100 people including the City Council, city staff and a number of residents who wanted to watch the celebration.
The City of West Hollywood put out a list of participants for the weekend that included two non-profits. Those are Black Women Lead, an L.A.-based organization committed to "amplifying the leadership and voices of black women and underrepresented communities." Project Angel Food will be out there on Sunday.
Parking enforcement indicated two cars were towed today, a far fewer than the previous two weekends. The party (and road closure) kicked off at 6 p.m. Saturday night, rocking on through Sunday and ending at 2 a.m. Monday morning. WeHo residents who aren't down to party are advised to avoid Robertson Blvd. between Melrose and Santa Monica. The pilot program is expected to last until mid-July.