Throughout the year of COVID, a streamlined team of trained chefs from top Los Angeles, West Hollywood and Beverly Hills restaurants filled the void. Now, three at a time, volunteers are able to work side-by-side with these culinary wizards.
"Volunteers are the heart of Project Angel Food; so, to be able to welcome them back in the kitchen is a momentous occasion," says Richard Ayoub, Executive Director of Project Angel Food.
There are still rigorous COVID safety protocols in place.
Volunteers must have previously volunteered in our kitchen
Be fully vaccinated
Go through a re-orientation
Commit to a recurring/regular schedule.
All COVID-19 mitigation guidelines such as temperature checks, distancing, and frequent hand washing will be followed
No walk-ins, friends or relatives will be accommodated
Only three volunteers at a time are allowed in the kitchen per shift. There is a morning shift and an afternoon shift.
After three weeks, Project Angel Food operations will evaluate and possibly expand to five volunteers per shift.
"Having volunteers back in our kitchen brings back incredible memories and hopes for life returning to a normal that we've all been waiting for through this past year," adds Vesna Fartek, Senior Manager of Community Engagement
"The smiles that we know are under the masks of both volunteers and staff add a brightness to our day."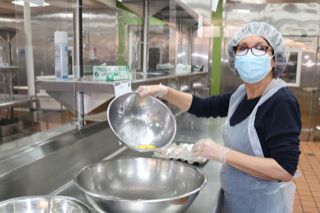 The first three volunteers back in the kitchen were Nancy Owens, Nancy Tankel, and Carmen Rico on Monday, May 3, 2021. They began the day with a re-orientation led by Fartek.
Tankel, a retired nurse and culinary school graduate says, "Being back in the kitchen feels like the day I got my vaccine. It's that exciting!"
Owens says, "We so missed being here. We love everybody. We love what Project Angel Food is doing.
Rico, a four-year volunteer says she had so much fun in the kitchen, it had become part of her life, "Monday is my day. It's good to be back."
Executive Chef John Gordon says integrating volunteers back into the kitchen workflow is going to take some effort but it's worth it. "Volunteers are part of our DNA. It's great they are returning. Today we have three and we'll keep growing until we're back to pre-pandemic involvement."
Aside from the kitchen, there volunteer opportunities include deliveries, office work and special projects, and The Everest Foundation Telephone Angels (which is a phone buddy program).