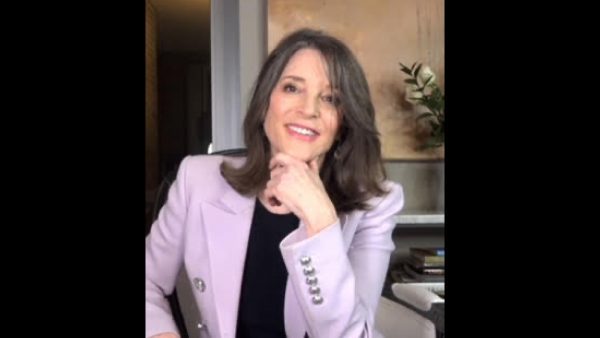 This week's episode kicks off the second season of We Know WeHo with a conversation with Marianne Williamson.
Marianne has impacted the community of West Hollywood in multiple ways including her work during the AIDS crisis in providing spiritual, emotional and psychological support through free weekly community gatherings. Williamson co-founded The Center for Living in 1987 where she established a food delivery service to sick and dying inbound individuals that became its own glorious non-profit we all know and love – Project Angel Food.
Marianne shares with Tracy and Maxine the incredible generosity of the entertainment community, including a large check from David Geffen and the first-ever Project Angel Food fundraiser, "Divine Design", which raised over $1 million with unthinkable auction items such as a personalized pool painting from David Hockney or tea with Liza Minnelli.
Tracy braves going off topic with her Shero and asks Marianne about the concept of a Department of Peace that leads the three to a deep conversation about ways to have an impact on a local level. The conversation ends on an upbeat note as the three find a fondness and common love of the long-gone Bodhi Tree spiritual bookstore on Melrose Avenue and a few of Marianne's favorite WeHo go-to's.
About Marianne Williamson:
Marianne Williamson is a bestselling author, non-profit and political activist, and spiritual thought leader. For over three decades, Marianne has been a leader in spiritual and religiously progressive circles. She is the author of 14 books, four of which have been #1 New York Times best sellers.
Williamson founded Project Angel Food, a non-profit that has delivered more than 13 million meals to ill and dying homebound patients since 1989. The group was created to help people suffering from the ravages of HIV/AIDS.
She has also worked throughout her career on poverty, anti-hunger and racial reconciliation issues. She has advocated for reparations for slavery since the 1990's and was the first candidate in the 2020 presidential primary season to make it a pillar of her campaign. In 2004, she co-founded The Peace Alliance and supports the creation of a U.S. Department of Peace. In addition, she advocates for a cabinet level Department of Children and Youth to adequately address the chronic trauma of millions of American children.