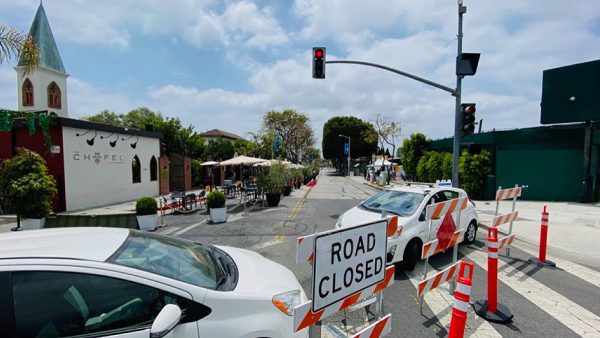 The city's much-hyped project — the closing of Robertson Blvd from Saturday afternoon through early Monday morning — had a quiet Mother's Day open. The project, created to fill cafe patios and bar seats by closing off Robertson Blvd. all day Sunday, showed little signs of life during the brunch hour.
More than two-thirds of the listed headliners at the "Mother's Day" event did not show up to perform. The city website also had the wrong date, May 2nd, to describe the weekend festivities. Tables were available inside the Abbey and the outside tables were unoccupied at the 12:30 pm hour.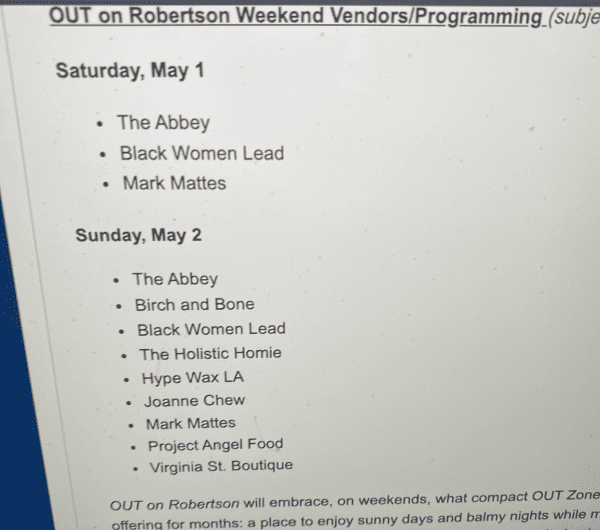 The list of headliners for the day were: The Abbey, Birch and Bone, Black Women Lead, The Holistic Homie, Hype Wax LA, Joanne Chew, Mark Mattes, Project Angel Food, Virginia St. Boutiue.
Black Women Lead had a table and canopy and the Holistic Hommie was also in attendance. The Holistic Hommie appears to be an instagram page. Project Angel Food had an empty tent at the time. No other West Hollywood businesses participated in this 4th weekend of the pilot program.
Toward the closing of the Monday night's Public Safety meeting; Commissioner Balbone asked the Director of Public Safety Kristin Cook a question regarding National Night Out. She said "I understand that we may not be prepared to do things in person but when we think about Public Safety and our community, something is in order, so just wanted to ask whats coming up in August if there is any plan or what that might look like?
To which Kristin Cook replied "Right now is a No, for in-person, unless smaller vaccinated folks want to follow the health order according to the I've been vaccinated mask-off rules. We're not out of this pandemic. And we are not going to be out of this pandemic in August. And it's dangerous to promote partying because people have already forgotten. I mean I saw it myself at Out on Robertson Saturday night and Sunday, everyone is running around without masks.
The Out on Robertson pilot program has been controversial since the start.
A pet project of Councilmember John D'Amico, Out on Robertson was brought forward with Councilmember John Erickson and was quickly approved without any outreach to the local residents and businesses.
Throughout the process of planning, the City Staff was met with robust objections by many of the businesses and residents.
Three residents — Manny Rodriguez, Carleton Cronin, and JB Miller — spoke up about the project in op/eds here on WEHOville.