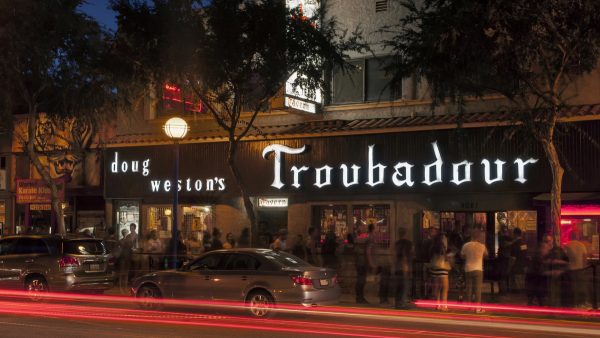 West Hollywood's legendary hotspot The Troubadour has been nominated for "Nightclub of the Decade" at next month's 32nd annual Pollstar Awards.
Since opening in 1957, The Troubadour has served as a premier launchpad for some of the biggest names in music and entertainment.
Elton John performed his first U.S. show at the club in 1970. James Taylor, Carole King, Cheech & Chong, Steve Martin, Metallica, Bad Religion, Guns 'N Roses and Fiona Apple all saw their careers take off after performing there. And over the past decade, Mumford & Sons, Sam Smith, BTS, Harry Styles and Billie Eilish all played The Troubadour before becoming household names.
The Pollstar award is given to "the nightclub that showcased superior talent booking, effective promotion, quality production values and staff, an exemplary experience for fans and artists, and consistent box office success over the last decade." The winner will be announced on June 16 in Los Angeles.
The Troubadour is located at 9081 N Santa Monica Blvd. in West Hollywood.